Kelly Rowland on 'Empire': First Look at Her Flashback Scene (PHOTO)
As if Cookie weren't enough, Empire's adding another independent woman.
Former Destiny's Child member Kelly Rowland is guest-starring in Season 2, and as this exclusive photo from the premiere reveals, she'll be playing Luscious Lyon's mother, Leah, in a flashback. "Through watching Leah, we learn more about Lucious's past," Rowland hints about her role. Of course, appearing on the biggest music show in years was a no-brainer, the singer says. "I am an absolute fan of the show. It was the most exciting thing to work with all of these masterminds."
Empire will aim for more high notes in Season 2 with a slew of big-name guest stars including Chris Rock as someone from Lucious' past that he reconnects with in jail. Marisa Tomei joins as a lesbian billionaire, Adam Rodriguez will flirt up a romance with Cookie, and Ludacris will play a cop. Alicia Keys and Lenny Kravitz also guest in unknown roles, and Mariah Carey is expected to stop by too.
The show returns September 23 on Fox.
Questions? Ask Critic Matt Roush!
TV critic (and occasional TV therapist) Matt Roush answers viewer questions and concerns in his Ask Matt column each week. Wondering about plots, characters and twists on Empire? Submit your query to Matt via the form below: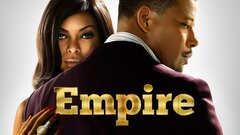 Empire
where to stream
Powered by