Mariah Carey is Headed to 'Empire' Co-creator Lee Daniels announced the news today to the crowd gathered as Carey got her Hollywood Walk of Fame star. He didn't announce, however, what she'll be doing on Empire.
The anchor desk, globe and props from the show will become part of the Washington, D.C. museum's permanent collection. PLUS: Stewart's nemesis Arby's wishes him a fond farewell.
Producers had offered the former Bush White House official a contributor role next season.
The 90210 alum will play a "slightly inappropriate housewife" in Season 2.
Australian actor Keiynan Lonsdale willl play Wally West, The Flash's sidekick.
Idol is being accused of trying to jump on the "transgender bandwagon." Musician Ryan Cassata, who is transgender, claims he grew suspicious because he was called out of the blue and invited to skip the first three audition stages. Here's the show's response: "American Idol is about finding great talent and the show welcomes diversity in its participants."
Watch as the HBO series shifts gears for its second season.
He'll play Blaine's father in Season 2.
The NCIS alum will play the mysterious Desert Wolf.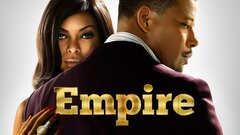 Empire
where to stream