'The Colbert Report' Producers to Move with Their Boss to CBS' 'The Late Show'
Have no fear, Colbert Report fans. As CBS and Stephen Colbert had previous hinted, much of The Colbert Report team will be making the move with him to The Late Show.
Former The Colbert Report executive producer Tom Purcell will take on the same role for The Late Show, while Meredith Bennett, who was co-executive producer at the Comedy Central show, will now serve as executive producer at the new show.
The Colbert Report alums Emily Lazar and Barry Julien have been named co-executive producers. Julien will continue as a writer and Lazar will head the talent department.
Head writer Opus Moreschi, also from Colbert Report, will also serve as supervising producer, while Jay Katsir will also serve beside him as head writer.
The Colbert Report director Jim Hoskinson will continue in that role, while Tanya Bracco is supervising producer and executive-in-charge and Matt Lappin and Paul Dinello are supervising producers/writers.
Emily Gertler (Good Morning America) joins The Late Show as senior entertainment producer, while one Late Show with David Letterman holdover is Sheryl Zelikson as music producer.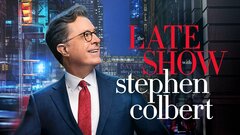 Powered by