'The Last Ship': Preview the High-Stakes Battle Ahead (VIDEO)
All hands on deck!
TNT's The Last Ship cruises towards its explosive Season 2 finale with a brand-new action-packed episode this week as the war between U.S.S. Nathan James Capt. Tom Chandler (Eric Dane) and Immunes leader Sean Ramsey (Brian F. O'Byrne) intensifies. In the exclusive clip below, the race is on as Chandler and his crew attempt to position their ship for an attack on Ramsey's Achilles submarine. But when the Navy vessel is pushed to its limits, the engine's power is tested in order to keep up with the elusive sub.
The Last Ship airs Sundays at 9/8c on TNT.
[jwplatform 9aan376G]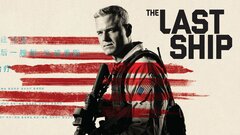 Powered by