The Last Ship Sails Into Season 2: What to Expect When the Apocalypse-Action Hit Returns
The stars of The Last Ship know how to take a beating. As Adam Baldwin, dressed in the Navy blues of executive officer (XO) Mike Slattery, gives a tour of the bridge on the show's Culver City, California, set, he momentarily forgets to duck in the cramped quarters and smacks his head against a low-hanging metal beam. "That happens occasionally," he says with a smile. Later in the day, leading man Eric Dane (Capt. Tom Chandler) visits the makeup trailer to get a prosthetic cut added to the side of his left eyebrow, but he's much more interested in showing off his real-life wounds. "I got my hand chewed up in a knife fight on Friday night," he says, flexing his mangled right paw. It's actually the second injury resulting from filming the same fight scene, which was originally delayed for three weeks after Dane broke his finger. "When you battle these stuntmen wearing this tactical gear, it's like punching a cheese grater," Dane adds. "So not only am I trying to make it look good and real, but I'm also trying not to kill myself in the process."
That painful dedication to authenticity is just one reason the freshman drama resonated with viewers last summer, becoming the most-watched cable premiere of 2014. The Michael Bay–produced thrill ride averaged 4.43 million viewers in its 10-week run as the crew of the USS Nathan James raced to discover a cure for a debilitating virus that ravaged 80 percent of the world's population. Upon returning home to Baltimore with a vaccine, the sailors realized the city's new leader, Amy Granderson (Alfre Woodard), was infecting the general public in order to power the city's grid with their fresh corpses. When the action picks up for Season 2, Chandler faces off against Granderson to regain control of his ship and begin his new mission: mass-producing the cureIf the first season was about finding the cure, the second season is about saving the world," says executive producer Steven Kane. "The ship goes from being the safest place on Earth to one of the most dangerous as new enemies align against them."
Last year's primary foe, the war-hungry Russians, are being replaced by the Chosen, a group of naturally immune individuals determined to block any cure for the virus, which they view as a form of natural selection. "The virus is still running rampant around the world, but this is an enemy that does not want to save people," executive producer Hank Steinberg says.
While the first season's storyline crisscrossed the globe, from the tundra of the Arctic Circle to the lush jungles of Nicaragua, this summer's action will be more domestic. After Baltimore, the crew will spend time in Norfolk, Virginia, before heading down the Atlantic coast and into the south, including Georgia, Florida, and Louisiana. "There are a lot of references to post–Civil War America and how, after that war, it was a broken country that had to get repaired," Kane says.
The key figure responsible for rallying the Nathan James crew is Chandler. He reunited with his children and father-in-law in Baltimore but could not save his wife from the disease. Now, he must make a choice between continuing his sworn duties to the mission or leaving the Navy to return home with his family, since the ship cannot accommodate survivors. "It's the ark," Dane says, "but it's not the Norwegian Cruise Line. It's a naval destroyer."
One stowaway from last season will be sticking around: wisecracking independent contractor Tex (John Pyper-Ferguson), who hitched a ride with the ship after the battle of Guantanamo Bay. His civilian rank within the crew, as well as his rogue attitude, was reminiscent of a similar character from a galaxy far, far away. "If they give me a Millennium Falcon and a growling sidekick, I'll be the Han Solo!" Pyper-Ferguson says with a laugh.
Last we saw Tex, he was setting off on a journey to locate the mystery girl whose picture he carries in a locket. But he won't disappear for long, if for no other reason than to rescue the object of his affection, virologist Dr. Rachel Scott (Rhona Mitra), who has been imprisoned by Granderson's people. "It's like an opposites-attract situation," Pyper-Ferguson says of the free-spirited Tex and buttoned-down Rachel. "They are two people who could potentially deeply care for one another, but they would never see eye to eye on just about anything. But I don't really see Tex as a one-woman guy."
Dr. Scott, who spends this season attempting to mass-produce the cure, sees her relationship with Chandler tested in new ways—as a colleague and also potentially as a romantic partner, specifically in the eighth episode. "There's always been a tension between them, whether it's based on the circumstances they're dealing with at the time or just a hello in the hallway," Dane says. "Something is brewing under the surface, but Chandler is a Navy man, and there is a protocol you have to follow."
But desperate times call for desperate measures, and the captain will need to break the rules this season for the sake of humanity. "Generally, the captain in normal circumstances doesn't take trips ashore to go off on a mission," Baldwin says. "But this is freaking Eric Dane, man; he's going to kick some ass. The fans demand it!"
For Dane, working on this show has strengthened his admiration for the military community, which has in turn embraced his realistic portrayal of a Naval officer. In March, he was invited to Washington, D.C., to give the chief of Naval operations an award sponsored by the Tragedy Assistance Program for Survivors (a military resource organization) during a trip that included a tour of Congress and the White House. The actor, who spent eight seasons as plastic surgeon Mark "McSteamy" Sloan on ABC's Grey's Anatomy, admits he is now getting more recognition for this role, including being saluted on the street. "The Grey's Anatomy fans are diehard and devoted, but I think they're slowly coming around to the idea of me as someone other than Mark Sloan," Dane says. "Look, nobody ever asked me for a facelift when I was on that show, and now I'm going to the White House."
The show's strong relationship with the United States Navy has allowed the cast and crew to return to Naval Base San Diego for a few weeks of filming on a functioning destroyer, as well as venturing miles off the coast to shoot an episode on an oil rig. The cast also works closely with Navy SMEs (subject-matter experts) when it comes to accurately portraying life aboard a military ship.
Back on set, the entire ensemble gathers in the ship's mess hall for a rousing and inspirational speech by Master Chief Russell Jeter (Charles Parnell), the senior enlisted sailor on the crew. It's an address that reflects the ultimate price of sacrifice and alludes to the dangers facing the USS Nathan James. "Over the last few weeks, we've taken a lot of hits," Parnell says. "Today, we grieve, we remember our fallen, and we thank them for their service. But tomorrow, we press on."
The Last Ship, Season premiere, Sunday, June 21, 9/8c, TNT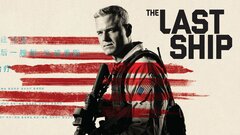 Powered by