Steve Austin Revs up for Season 5 of CMT's 'Broken Skull Challenge'
The moment Steve Austin steps out of his trademark truck, it's game time for the premier athletes who put their bodies and minds to the test like never before on Broken Skull Challenge. The CMT hit series returns for its fifth season on September 26 with a new crop of competitors battling it out in the California desert heat for a shot at the Skullbuster course and some serious cash.
The series has been a passion project for Austin, who serves as host, commentator, drill sergeant and overall motivator to the participants. The 52-year-old warns them from the start that it's going to be a long, hard day. However, the crew aims to create an environment conducive to allowing the athletes to perform at their absolute best.
And Austin is there every step of way to push these men and women. Although there are aspects of the WWE Hall of the Famer's approach that may remind fans of his successful career as "Stone Cold," he believes this show is a whole different animal.
"Being 'Stone Cold' was a lot of fun," Austin said, after wrapping up a day of shooting on the Broken Skull Ranch. "That was a guy who was in his element talking a lot of trash…That was the business of pro wrestling. It was entertaining, but I was a pro wrestler. You have to remember it's been 14 years since I was doing that job.
"These days when I wake up, I am Steve Austin, period…Here, I never want to be a blowhard. I don't want to trash-talk them, belittle or demean anybody. Our job is to bring these athletes, who are some of the best in the United States, and give them a fair platform. That's the guy I try to be."
The Texan takes pride in the show's growth. It began with a recruitment mission and casting calls to the obstacle racing and Spartan worlds. All who signed up at the time knew about the series was that it was a competition show called Steve Austin's Broken Skull Challenge, but found out quickly it was more than just a CrossFit session. Now, as the show as grown, Austin says the show recruits itself.
"I think with more experience, more reps and everything in life, you get a little bit better," he said of the show's evolution. "I've been doing a podcast for four years. I'll never be NPR-quality. That ain't who or what I am. This show has a rough edge, and that's the way we run it. It's lean, mean. We got to be efficient. We have about 90 people out here on our crew. I wasn't ribbing when I say we have the toughest crew in the business because it gets hotter than hell out here…
"We will carry a couple of challenges season through season, so some of them will be the same. We also want to make new ones. Sometimes I scratch my head, as well. I'm not the only brain here. I'm the face and voice, but there are a lot of smart people who come up with this stuff. It was my idea to create the show and pitch it to CMT, but there are many people behind the scenes who are coming up with great ideas. That's how they tackle the task at hand. I let them do their job."
The staff does their job well, with everyone from welders to artists working in concert to create the challenges. Challenges that provide the athletes with what Austin describes as, "Come to Jesus moments." This begs the question: In what challenge does Austin think he would do well?
"Don't put me on Heartbreak Hill. I'll have to put on my leg braces," he said. "It would be fun to get down in that trench. Trench Warfare is one of my favorite challenges out here because you go head-to-head with another human being. I've seen people slide by each other and turn it into a foot race…if I'm going against you in that trench, I'm going to stomp your ass.
"You have to dig deep here if you want to make it through. I was talking to Vince [Cariati, the show's executive producer] the other day. We were talking about how our model is we bring eight great athletes here, and your chances of success are really slim because seven are going home and only one gets to take on that Skullbuster. We make it as tough as possible on every one of those people. We give them a fair shot, but we make it tough. That's the way we want it."
Austin is excited for viewers to check out the fifth season of Broken Skull Challenge, as it looks to raise the bar and even bring back some past competitors. In the past, the series has also done shows themed around veterans. Moving forward, if there was a Season 6, would we ever see a celebrity edition?
"If you could find me eight celebrities that are tough enough or willing to put their money-making career on the line to come out here to this brutality, I'd love it. I'd love to do it for charity," Austin said.
He feels the same about if the opportunity came up to bring in some of his pro wrestling brethren to compete. Austin does have a few WWE superstars who he believes could stand a chance.
"Cesaro, because of his strength endeavors. He is a workout freak and physical phenomenon," he said. "I know Seth Rollins is in the CrossFit as well, but I'll say those two names and stop right there, because it would be a really short list. Now Brock [Lesnar] would do great in The Pit, though. He would do good in the brackets and The Pit. But put him in the Skullbuster—and Brock is a very good friend of mine—but he wouldn't do great on that because it would chew him up and spit him out."
The former multi-time WWE Champion has had a blast partnering up with CMT. The show has played a pivotal role in the network's efforts of producing original programming like Nashville.
"I'm a country music fan, but you see they are more than a country music channel," Austin said. "I'm proud to be in business with them. I hope we have been able to bring a demographic to them that is part of their growth process and who normally wouldn't watch CMT.
"This is a challenge show. I don't know if you can put this in the reality classification. I don't. This is a challenge show. This is a competition show. The fact is there is a lot of reality here because the reality is you are going to win or you are going to lose. And you are going to go home or take on the Skullbuster. If you're looking for a challenge, you're going to find it here. I just call us a bad ass challenge show with a lot of reality."
Looking to the future, Austin is open to doing more seasons. Not one to over-plan for anything, he is taking life one day at a time. He may be one of the most recognizable personalities on the planet, but he has never strayed away from who he has always been: the Everyman with homegrown fundamentals.
"I grew up middle-class. I grew up in South Texas. My dad sold insurance for a living, and my mom hung wallpaper. My dad, when he balanced his checkbook, and if we were one nickel off it was, 'Beverly!' He would call the wife in and they would sort things out. We were very frugal. I still am. My dad and my mom taught me that when you're born, you have to work your ass off for every single thing you got. I believe in hard work.
"Now, through all these years of pro wrestling and all the stuff I've done to come here and do a show like this…I was never out to prove anything. When I got into the business of pro wrestling, I just wanted to do it because I thought it would be cool, because I would watch it on TV. Hell, it turned out I was pretty good at it.
"I'm not bragging, but I don't have anything to prove to myself. I just know that at this point in my life I can be picky about what I want to do. If it's not a passion project I don't believe in or don't want to do, I don't have to. I'm fortunate to be in that spot, but I worked to be in that spot. I love this show and a few other things, but I want to spend a lot of quality time with my wife and my dogs."
He also finds enjoyment in RVing and just being outdoors, which he gets ample time for while on set. Also, on his bucket list is learning to build neon clocks, long-range shooting and performance-driving school.
"There are things personal to me that I want to accomplish. Not so I can brag about them, just so I can do them," Austin said. "I want a hobby, so when I start getting up there and I'm not doing this, I have something to fall back on and still entertain myself."
Steve Austin's Broken Skull Challenge Season 5 gets underway 10/9c Tuesday, September 26, on CMT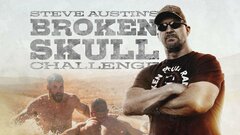 Powered by