'Stone Cold' Steve Austin Talks 'Broken Skull Challenge', Royal Rumble and All Things WWE
During Season 4 of Steve Austin's Broken Skull Challenge, Steve Austin wanted to raise the bar by changing the format, upping the difficulty level and welcoming back familiar faces from past seasons for "All-Star Episodes."
The WWE Hall of Famer and host of the CMT competition series liked what he saw. These athletes and everyday people from all walks of life faced off in hopes of advancing to the "Stone Cold"-designed Skullbuster Challenge.
"We caught them off guard with what we threw at them, but the all-stars were up to the task at hand," Austin says.
"Once you go through something, whether there is one challenge or two or are at it all day. It breeds familiarity. They had a sense of who everyone was from watching the show. They came back with veteran status and a real sense of confidence and competitiveness. The last few episodes have been all alpha males and alpha females, which will be the focal point of the finale. They were ready and chomping at the bit to get to business. It really is something to behold."
Austin continues to be impressed with his returning champion, Hunter McIntyre. Often between rounds he would catch the intense Spartan Race regular psyching himself up by pacing back and forth cursing up a storm.
"His intensity would be so great," says Austin.
"It blew me away. That guy is a premier athlete. That guy is a killer. When I observe him, I'm thinking, 'God damn! This motherf–ker is intense.' This is what this kid does for a living. He is sponsored and does all these races. He takes what he does very seriously."
With the current season wrapping up on Sunday, Austin already has big plans in case there is another one. He wants to more than change up the course and modify it.
"I want to knock the whole thing down and redesign it all," he says.
"Just the fact that we are doing some of the same challenges for three or four years, I want to change things up and not go through the motions. I want to reinvent and make it tougher and play into different body types. I want to f–k with it and throw the competitors curveballs and entertain the people.
"It has been a fun ride, and this show has inspired a lot of people. The thing about the Broken Skull Challenge is it's very simple and basic. Its simplicity is the genius of the show. You bring these hardcore competitors and personalities; that is what makes it badass. I was in West Texas on my ranch where the only gas station in town [was] at the time. The lady at the cash register goes, 'Oh, I love your show.' At the time I was doing Redneck Island, too. Since I was in South Texas in the country I thought she was talking about Redneck Island. She said she was talking about Broken Skull Challenge. I didn't think the show was her demographic. She told me she liked it because it was simple and no bulls–t. There is no B.S. storyline. It is all straight-up competition. This is a competition show. It's not a reality show that is overproduced with storylines being manipulated. This stuff is real deal, put up or shut up, go on or go home."
Looking Back on the WWE Years
Austin puts that type of "put up or shut up" mentality into all his projects, whether it is on a podcast, captaining a television show—and certainly in the wrestling ring back in the day. When it came to the late 1990s into the new millennium, there was nobody hotter in WWE than "Stone Cold." Even though it has been more than a decade since the popular superstar alum laced up the boots, he remains a fan. The Royal Rumble remains one of his favorite events, and he will be watching Sunday's 30-man over-the-top battle royal with excitement like everyone else.
"It will be interesting to see what they do with [Bill] Goldberg and Brock [Lesnar]," Austin says.
"You are expecting they are meeting at WrestleMania for another match, but they do have to do epically well in this because of the physicality of both guys. They just brought Undertaker back. He has to be a force in there. Braun Strowman is a physical guy in there. He has to be strong and eliminate a decent amount of guys, but is he ready for a main event slot at WrestleMania? I don't know. There are so many things to consider when I look at this; I'm not even going to try and book it. I'm just looking forward to watching it.
"…They are relying on the established stars to help out with their experience. I think it's more than nostalgia. There are these guys who have been there, done it over and over. People still want to see them, but the fact they are this veteran presence and super well-known. Most of that roster is not over to the degree a lot of the current guys are. So blend them in there and let those young guys get the rub, do well, because they are the future. The nostalgic guys bring that older and hardcore fanbase because most of those guys were from the 'Attitude Era.' They are drawing any way they can to sell tickets and put asses in those seats."
The "Texas Rattlesnake" marvels how some of his longtime rivals and peers still work at such a high level. Among them is The Undertaker, whom Austin feels he is not resting on his laurels.
"I mean, how much left does The Undertaker got?" Austin wonders.
"He is a friend of mine. I don't have his phone number or his email address. When we see each other we do catch up, though. The career that guy has at being almost 7 feet tall. The bigger you are in the business the more toll I think it takes on the body. You observe bumps differently. That guy has been through some wars. We used to always kid each other with who is going to last the longest. I got out in 2003, and that was 14 years ago, and this S.O.B. is still going. It's been an unbelievable ride and an incredible career. He is a badass. There is only one guy who could have pulled that gimmick off the way he is doing it, and his name is Mark Calaway."
On the topic of old running mates, Austin was ecstatic when he found out Kurt Angle would be inducted into the WWE Hall of Fame. He couldn't be prouder, knowing the honor is well deserved and hoping it brings at least one more match for the Olympic gold medalist. The two had remarkable chemistry together. Who can ever forget the time Austin musical duets or the miniature cowboy hat?
"He has done so many funny things," Austin said.
"We've done so many skits because I had three broken bones in my lower back, so we had to rely on comedy because I couldn't wrestle. We came up with that bulls–t; well, most of it was on the fly. I think back when I did commentary on a Monday Night Raw when Kurt Angle, and—it's almost taboo to say his name, but Chris Benoit—fought in a cage. God dang those guys went in there and lit it up. Kurt did that moonsault off the top of the cage. I believe he missed it. However, those guys put it all on the line that night, and I will never forget it because I was right there watching it ringside. You see the work being done at the highest level. That was a favorite Kurt Angle moment."
RELATED: 5 WWE Matches That Make Kurt Angle Hall of Fame Worthy
Austin wouldn't mind seeing Angle in the Royal Rumble from the Alamodome in San Antonio this Sunday. It was 20 years ago in the same facility that Austin won his first Rumble. He looks back at that moment as a milestone.
"I was eliminated, and the ref didn't see me go back in to eliminate Taker, Bret Hart and Vader," Austin remembers.
"The nature of what it was at the time was important for me. I was in the process of getting over. I wasn't super red hot yet. I was gaining momentum. It was the match that helped catapult my future, as did the subsequent Royal Rumble that followed."
Steve Austin's Broken Skull Challenge, Season 4 finale Jan. 29, 10/9c, CMT
WWE Royal Rumble, Jan. 29, 7/6c, Pay-Per-View and WWE Network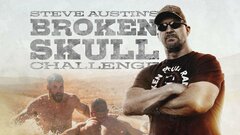 Powered by