Dr. Bailey Dispenses Some Wise Advice in This Deleted 'Grey's Anatomy' Scene (VIDEO)
eNlfZjMr
There's no doubt the doctors and residents of Grey Sloan Memorial have dealt with a lot through the years, especially with the shocking death of McDreamy this past season. Thankfully, there are light moments interspersing the serious ones—like in this exclusive clip of a deleted scene from Season 11—included in the DVD released today.
In the scene, Dr. Webber (James Pickens Jr.) makes an awkward attempt to strike up a relationship with Dr. Pierce (Kelly McCreary), who he discovered is his daughter from an affair with Meredith's mother. After Dr. Pierce brushes off his request coldly, Dr. Bailey (Chandra Wilson) offers some consolation and words of advice.
"She's like the wild fox in the field, so you have to be like the little blonde prince and tame her," Dr. Wilson suggests, alluding to the French children's book The Little Prince. After some initial confusion, Dr. Webber realizes he has to play it cool and be patient with his daughter. Also in the video is a funny moment when Callie (Sara Ramirez) gets huffy at a new barista.
RELATED: Shonda Rhimes on Why McDreamy Had to Die
In addition to more deleted scenes and funny outtakes, other bonus features included on the Season 11 DVD are: a spotlight on actress Caterina Scorsone (who plays Derek's younger sister and fellow doctor, Amelia), an extended version of the episode "You're My Home" and a featurette with Shonda Rhimes saying goodbye to McDreamy.
Grey's Anatomy Season 11 available Tuesday, August 18 on DVD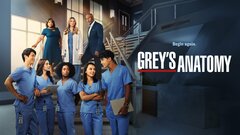 Powered by