Grey's Anatomy Postmortem: Where's Derek? Now We Know
Spoiler Alert: Stop reading if you have not yet watched Thursday's episode of Grey's Anatomy!
Two cars crash, flip, land in front of him. Derek's okay. A car catches fire and explodes in front of him. Derek's okay. His phone rings, he reaches to answer it—despite stopping his car across the middle of the road. A semi broadsides him. Derek, now John Doe to the doctors working on him, is not okay. He didn't see it coming, though the foreshadowing for us has been there for several episodes, confirmed by an unfortunate spoiler by Entertainment Weekly this week. "I'm going to die because these people aren't properly trained," he thinks to himself. He doesn't… he's, as Meredith puts it, "dead, but not really dead." She approves pulling the plug, of course to a reprise of "Chasing Cars" and a series-spanning montage. Talk about a tear-jerker.
It's an understatement to say that it's the end of an incredible era. We've known and (mostly) loved Dr. Derek Shepherd since Grey's Anatomy premiered on March 27, 2005. In the wake of this development, ABC released the following statement:
"After 11 seasons on Grey's Anatomy, Patrick Dempsey is moving on to pursue other interests. Dr. Derek Shepherd is an iconic character and we've been proud to be the home of "McDreamy" and the "Mer/Der" love story. The devotion of Grey's fans throughout the years has been a testament to the creative mind of Shonda Rhimes and Dempsey's talent. "McDreamy" will be greatly missed and we wish Patrick the very best in his future endeavors."
Rhimes, the show's creator, adds:
"Derek Shepherd is and will always be an incredibly important character—for Meredith, for me and for the fans. I absolutely never imagined saying goodbye to our "McDreamy". Patrick Dempsey's performance shaped Derek in a way that I know we both hope became a meaningful example—happy, sad, romantic, painful and always true—of what young women should demand from modern love. His loss will be felt by all. Now, Meredith and the entire Grey's Anatomy family are about to enter uncharted territory as we head into this new chapter of her life. The possibilities for what may come are endless. As Ellis Grey would say: the carousel never stops turning."
Now pass the tissues, please.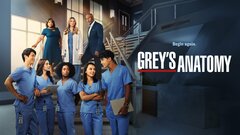 Powered by