Abby's Road: How 'Ray Donovan' Navigated That Season 5 Shocker
She's worth more dead than alive. Showtime's crime-noir hit Ray Donovan has blasted into Season 5 with a 10-month time jump and the gut-punching news that Abby Donovan (the deliciously salty matriarch played by Paula Malcomson) is no longer among the living. Details of Abby's demise are murky. Was she suffering from some sort of brain cancer? Did she kill herself rather than give in to the disease? And what family fallout led to her husband, Ray (Liev Schreiber)—a hired gun for the rich and famous—being ordered into psychotherapy by a Los Angeles court? About the only thing dead certain about this season is why Abby had to go.
"The time had come for us to take a really big swing," executive producer David Hollander says. "This show is about examining the complexities of Ray's wild and messy life, and there was only so far that crime and violence and his career as a fixer could take us creatively. It was no longer satisfying. Ray came out of [the mob wars] last season feeling like God. We had to throw something at him that he couldn't control."
That meant whacking the love of his life, the mother of his children, his only source of emotional support. The good news: Abby, now seen in a series of flashbacks, dreams and memories, remains a vital presence—this season, anyway. Still, Hollander's decision threw Malcomson for a loop.
"I found out my character was dead [via] a phone call. No one wants to have that conversation face-to-face," Malcomson says with a laugh. "At first I was, like, 'What the f—?' Then I went and hid for a month, not only because I'm the world's biggest blabber but because I needed to process how I would play this." She didn't want "a pretty Love Story kind of death," Malcomson adds. "To honor Abby, it had to be highly charged, deep and real, and I think we achieved that. Still, the whole damn thing is a gamble. It might not work, or it may be great. Either way, it will certainly bring the audience up close and personal with Ray."
See Also
Production on Season 5 will start in 2017.
Schreiber is feeling the pain, on screen and off. "Paula has always been the anchor of our show," he says. "In a way, it's like I've lost my leading lady and a dear friend. I understand why it had to happen—the model we'd created for the series was unsustainable, and the wheels had to come off—but it's been really hard and emotionally taxing. And for Ray, it's his worst possible nightmare come true."
So will the fixer be able to fix himself? Ray, a victim of childhood sexual abuse at the hands of the family priest, is now even more desperate for a sense of normalcy in his life. "Without Abby to stabilize him, Ray's rage and his trust and abandonment issues are all over the place," Schreiber says. "He's gone back to what he knows—working for others in Hollywood. He shouldn't be his own boss. He does best when he's submissive."
Providing the perfect jolt of sadomasochism is Ray's new client, Samantha Winslow, a très bizarre movie studio chief (Oscar winner Susan Sarandon) who lives in architectural splendor with a taxidermied lion. Sam slept her way up the showbiz ladder and is haunted by a secret involving her daughter. She also has a weak but dangerous stepson (think Fredo in The Godfather) who could be her undoing. "Ray is addicted to being at the whims of powerful men—suddenly he finds himself pulled in by this powerful woman," says Hollander. "It confuses but intrigues him."
See Also
Chrissy Metz, Milo Ventimiglia, Reese Witherspoon and Keri Russell all picked up acting nominations.
Sarandon, fresh off her Emmy-nominated turn as Bette Davis in Feud: Bette and Joan, says she sparked to the megamogul gig, which could extend into next season, because "Sam is tough and kind of cool and very well-heeled—everything I'm not. It's her philosophy that we should take what we want in life and not wait for permission."
At first, notes Sarandon, "there is just a lot of posturing and attituding between Sam and Ray—I swear there must be a word cap in Liev's contract, because he only says a few syllables per episode!—but eventually things warm up. Sam starts asking Ray to do immoral things for her. It's the oddest coupling. They come to realize that they share shame—and that's when it gets juicy."
Ray Donovan, Sundays, 9/8c, Showtime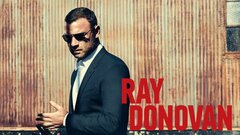 Powered by