Jessica Lange and Susan Sarandon as Joan Crawford and Bette Davis in 'Feud': Ryan Murphy Captures the Zeitgeist Once Again
For years, überproducer Ryan Murphy has been making TV shows that don't just tap into the cultural zeitgeist—they smack it in the face. Glee understood the teen obsession with pop music, exhibitionism and insta-stardom long before parents—or YouTube—did. When The People v. O.J. Simpson: American Crime Story debuted in 2016, police misconduct in the United States was setting race relations back decades.
Now Murphy's doing it again with his new FX anthology series Feud, which begins March 5. Like American Crime Story, each season of Feud spins a different real-life yarn—with the focus on infamous quarrels. First up: Feud: Bette and Joan, about the rivalry between Hollywood icons Bette Davis (Susan Sarandon) and Joan Crawford (Jessica Lange), which reached legendary heights as they were making their 1962 box-office smash, What Ever Happened to Baby Jane?, and continued even after the latter's death in 1977. ("You should never say bad things about the dead, only good," Davis quipped. "Joan Crawford is dead. Good!")
Davis (the great artist) and Crawford (the great beauty) were actually very alike—both Aries, known for their toughness, divorced many times and at odds with their children. But they also had major differences. "Bette wondered what it would be like to walk in the room and have everyone stop," Sarandon says, "and Joan wondered what it would be like to be that respected an actress. That was a source of their conflict, for sure." It didn't help that Crawford married Davis's crush, actor Franchot Tone. Or that Davis was the first of the two to win an Oscar. Then, when they were forced by the lack of roles for aging women to collaborate on Baby Jane—as Feud depicts—Warner Bros. studio head Jack Warner (Stanley Tucci) used their volatility as a selling point. "The women realized that together they were an event," says producer Michael Zam, who cowrote Best Actress, the unproduced screenplay that inspired the series. "But separately, they were meh."
How a half-century-old animosity between two late actresses relates to today's cultural climate is both simple and complicated. The simple: America loves celebrity tiffs—for example, the recent Twitter wars of Donald Trump v. Arnold Schwarzenegger or Sarandon v. Debra Messing—which play out in real time. But female feuds hold the greatest attraction. Did you know Marlon Brando once lashed out at James Dean? Or that Cary Grant despised them both? Probably not. Says Sarandon, "It's tough enough in this industry without seeing other women as your enemy."
That's where it gets complicated. Murphy, who befriended Davis as an entertainment reporter when he was in his 20s, remembers her telling him that she and Crawford were unaware that the studio was pitting them against each other to promote Baby Jane until it was too late. "That's the tragedy of the series," Murphy says. "It's the same as the last line of Baby Jane: 'You mean all this time we could have been friends?'" That, he adds, is its lesson: Women are too often made to compete against each other ("There can only be one It Girl," Crawford says in the show) when together they could be quite a powerful force.
"I consider myself a minority, and I'm surrounded by minorities and women," the openly gay producer says. "I'm at a point in my career where I'm like, 'Let's work together to get what we want. Let's not be estranged or apart.'"
And he puts his money (and his camera) where his mouth is. Last year, Murphy formed the Half foundation to make sure that 50 percent of all crews on his shows are women or minorities. More than half the directors on Feud are female (including actress Helen Hunt, who helmed Episode 7). The series has roughly 15 roles for women over the age of 40 and includes strong depictions of Hollywood ball breakers like Hedda Hopper (Judy Davis), Olivia de Havilland (Catherine Zeta-Jones) and Joan Blondell (Kathy Bates). "The fact that our work is being used to give these incredible actresses the chance to strut their stuff," says Best Actress cowriter Jaffe Cohen, "is just wonderful."
It also couldn't be a more important time for women to band together—and, as the Women's March in January proved, they're doing it. "Not to get too political," Cohen says, "but the show will resonate because it's all about the possibility of women together being powerful, which is now playing out everyday in the news. And if anything saves the country, it's going to be the sisterhood." —With reporting by Jim Halterman
Feud: Bette and Joan, Series Premiere, Sunday, March 5, FX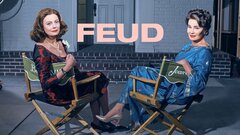 Powered by