Fox Chiefs on the Returns of Simon Cowell, '24', 'Wayward Pines' and More
Fox is looking to get back in business with Simon Cowell.
Cowell is developing a new show with the network, Fox Entertainment Group chairman Gary Newman confirmed to reporters on Thursday.
Newman said there's nothing to announce yet, but said "it's possible we'll end up back in business with Simon." The show they're discussing "would be definitely something in his wheelhouse, but quite different from what he has done in the past."
Fox and Cowell haven't worked together since X-Factor ended its three-season run on the network during the 2013-2014 TV season. This isn't the first time Newman and fellow Fox Entertainment Group chairman Dana Walden have discussed the possibility of reuniting with Cowell, but it is the first time they've suggested that a particular project has been identified for development.
Cowell will very likely pop up on American Idol as that show celebrates its last season. "I'm sure there are conversations going on," Newman said of a Cowell guest visit, "but it's still early and nothing has been worked out at this point."
During Fox's portion of the Television Critics Association press tour, Fox announced Star, a new music-themed pilot from Empire executive producer Lee Daniels, as well as the 10-episode return of Prison Break and a crossover between Thursday night shows Bones and Sleepy Hollow.
Also at the press tour:
–Fox confirmed TV Insider's January report that talks are progressing on an X-Men series. But given the complicated deal making that must happen between Marvel and 20th Century Fox TV, nothing is official yet.
–Fox announced that a pilot presentation is underway for the animation/live-action hybrid Son of Zorn, from The Lego Movie directors and The Last Man on Earth executive producers Phil Lord and Chris Miller.
Jason Sudeikis (who also appears in Season 2 of Last Man) will voice the lead character, a big, macho warrior from another planet who has a child with a human. He winds up staying on Earth as a result. "The production on it is very challenging," Newman said. "It's something we've been working on for two years. It took us this long to convince ourselves that we were capable. We won't see it for four our five more months, and then hopefully we'll go straight to series."
–The next 24 revival is still in development, as Manny Coto and Evan Katz currently writing the script, and creator Howard Gordon overseeing it.
"We hope to see it in a month," Newman said. But as previously reported, Kiefer Sutherland will not appear.
"We would love to have Kiefer back. We went to him first, but it's not something he wants to do at this point. He encouraged us to continue and look for a way to bring the show back. It has the clock and the time element. We're hoping the script will live up to expectations."
As for the new lead character, Newman said, "I don't know whether we'll see any old characters or not. It would not surprise me if it were a total reset in terms of the characters."
— M. Night Shyamalan is working with author Blake Crouch on developing a second season of Wayward Pines, but without original showrunner and executive producer Chad Hodge. Shyamalan has a new showrunner in mind, Newman said. A decision on Season 2 would have to be made soon, "in a perfect world," he said, in order to meet the same early summer launch date as this year.
— Fox confirmed Gordon Ramsay's Tweet that the network has signed a new long-term deal extension with the network. "Gordon shows will be a part of the Fox schedule for many years to come," Walden said.
More TCA Coverage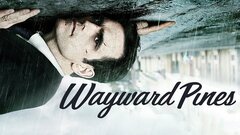 Powered by