Jacqueline MacInnes Wood Explains Her Character's Killer Instincts on 'The Bold and the Beautiful'
Steffy Forrester did a bad, bad thing. The glam fashion-house president of The Bold and the Beautiful—played by Jacqueline MacInnes Wood—killed her cousin Aly (Ashlyn Pearce) with a tire iron when the mentally ill youngster attacked her with a rock on a foggy stretch of the Pacific Coast Highway. Dazed and confused, Steffy told the police that Aly fell and hit her head, but on August 14, she finds out Ivy (Ashleigh Brewer) captured the whole damn thing on her cell phone. Wood gave us the dire dish.
So, how's it feel playing a killer?
When I first heard about it, I was in major shock, of course. Then I started thinking about how everything bad happens to Steffy and that it makes sense that she's a murderer now. It's kind of perfect, really. But I'm really sorry we had to lose Ashlyn. She's such a wonderful girl, a really good friend and so incredibly talented. That's the sad part about this industry we all chose to enter. These things happen. But Ashlyn has a fantastic career ahead of her.
As horrible as it was to lose her, it was also refreshing to have a real death on a soap for a change. There have been way too many back-from-the-dead plots on the competition lately.
Aly does come back to the show in a dream [airing August 13], but I like how we executed this story. It was a freak accident—the kind you'd never expect but also the kind that does occur in real life. As crazy as soaps can get, you have to play it real every once in a while to make sure the audience stays invested and keeps believing.
Aly was hugely popular. Did you worry the fans would hate Steffy?
I'm used to it. When my character is busy being a home wrecker, the audience is like, "We detest Steffy and everything about her, including her clothes." But I am 100 percent behind my character because she killed Aly in self-defense, and I'd say probably 90 percent of our fans on social media are seeing it my way. [Laughs] Even my haters!
Does Steffy truly not know she killed Aly or is she in denial?
It's a blur for her. Everything happened so quickly, Steffy doesn't know what's real and what's not. She can't begin to comprehend what really happened. It's like she's mentally checked out and gone into primal mode. She truly believes there's no way she killed Aly. Plus, she's also being very careful about who she opens her mouth to because the Forresters are so famous. They're followed by paparazzi 24/7. They live life under a microscope.
Does Steffy freak when she learns there's visual evidence of the incident?
Not in the way you'd think. Steffy's wondering, "Why is there video?" Think about it. Ivy is driving down the road and comes across her best friend, Aly, attacking Steffy, and instead of trying to stop the fight she records it? Who does that?
Plus, Ivy's been withholding the evidence, which means she could be in more hot water than Steffy, right?
It gets even crazier than that. Ivy will share the video with Steffy's brother Thomas and promises to not go to the police if he makes sure she's the new face of Forrester Creations. So, basically, she's willing to hide the truth in order to be a model. That's blackmail. You'd think maybe she'd think big and use the video to blackmail her way into Steffy's job as president of Forrester. But to be a model? [Laughs] Listen, if Steffy had another tire iron right now, she'd be using it on Ivy!
More to Read
UnReal Season Finale: "No one got what they wanted, but they got what they deserved," says show creator and executive producer Sarah Gertrude Shapiro.
Why McDreamy Had to Die: Shonda Rhimes reveals what's ahead for Grey's Anatomy
Muppet Gossip: We interview Kermit and Miss Piggy after their breakup
Special Anniversary: Why A Charlie Brown Christmas will be different this year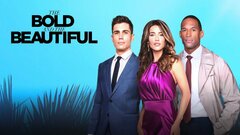 Powered by