Exclusive: Jacqueline MacInnes Wood Returns to The Bold and the Beautiful
Shhhh! Don't tell Ivy. Two-time Emmy nominee Jacqueline MacInnes Wood is heading back to CBS's The Bold and the Beautiful as that maddeningly complicated sexbomb Steffy Forrester—and this time the actress is under contract. MacInnes Wood popped into B&B briefly a few weeks back when Steffy tried—and failed—to steal her ex-hubby, Liam (Scott Clifton), away from her cousin, Ivy (Ashleigh Brewer). On May 26, Steffy will return for Round 2. MacInnes Wood gave us the deets.
Welcome back! And just in time for damage control. When we last saw Steffy, she was willing to take part in the hostile takeover of her family's company, Forrester Creations, but only if Liam would dump Ivy. Seriously? Don't you think her professional credibility kind of went down the crapper?
I know! It was a little weird and that visit did end abruptly with Steffy running away —again. Her thing with Liam has been going on for so long and she was feeling vulnerable and at her wit's end. But L.A. and the fashion industry are her life. She has to come back and, this time, really deal with everything. And everybody. Even Ivy. [Laughs] I want Steffy to get out her selfie stick and hit that woman! My character is the socialite who grew up getting whatever she wanted…money, fame, everything. She's like some of those famous girls—you know who I mean but we don't need to name them —who somehow always end up in the tabloids every day.
She also has enough shares in the company to raise hell. But will she?
I think Steffy will do the right thing. She knows that things are starting to crumble with Rick in control of Forrester and that everyone in the family is attacking each other. Obviously, she tried to start a new chapter with Liam and really thought she had a chance now that Hope is out of the picture. She doesn't really know this Ivy, even though they're cousins. In Steffy's mind, Ivy is just some new woman in town and Liam is fair game. He and Ivy have no history. They've been together for, like, what? A minute? But Steffy didn't win last time. Not even parading around in a bikini helped. [Laughs] What does a girl have to do to get laid?
Well, the quickest way for Steffy to win back Liam would be for her to go after Rick. When Rick finds out he's been sleeping with an ex-man, he's going to need a shoulder to cry on.
This is B&B! There's always that possibility. Steffy has a very different chemistry with each of those boys—I really love the energy and the banter with both—and she's already slept with Rick. They have history.
And then some. Rick has hit the sack with Steffy, Steffy's sister and Steffy's mother. The trifecta!
Which is why I can see her going back to him. [Laughs] Steffy is into recycling. She's always thinking. There's a reason she was named for her grandmother, Stephanie. There's always a tactic, always a strategy. Rick and Steffy were married…right?
Uh, not that I recall. Engaged, yes.
Right, engaged. But she knows him real well. She knows he'll eventually screw things up and she will not let him take the company down.
Do you think maybe Steffy is a little bit nuts? It never seems like she's quite playing with a full deck.
Absolutely. A lot of unfortunate things have happened to this girl—her sister's death, the time she stupidly got on that motorcycle and had a miscarriage, which Liam has never forgiven her for. She's been hurt a thousand times, not to mention the insane stuff that happened when she was young, like being kidnapped, like seeing her father leave her mother over and over again. I hold this character close to me like I would a best friend. I want to slap some sense into her whenever I see her heading in the wrong direction, which happens so often. So, yes, she's a mess. But a very strong mess. Steffy will always have her feelings for Liam, but now she's coming back to fight on a much bigger scale. And it's going to be bloody.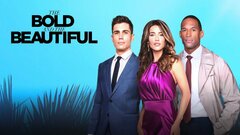 Powered by