Hollywood Confidential! On Set With Kelsey Grammer and Matt Bomer in 'The Last Tycoon'
Champagne is flowing and music is jiving as women in silky vintage gowns chat up men in dapper, broad-shouldered tuxedoes on the set of The Last Tycoon. Until, that is, the band quiets and all eyes shift to powerful film exec Pat Brady (Kelsey Grammer), who slowly raises his glass for a toast.
The cause for this soiree, shot at historic Greystone Mansion in Beverly Hills, plays a key part in Amazon's new drama, which explores the inner workings of a Hollywood movie studio in the 1930s. (Spoiler alert! It isn't so different from today.) The lush series pulls back the shiny veneer of La La Land and focuses on relationships between top dog Brady and hotshot studio producers like Monroe Stahr (Matt Bomer), as well as starry-eyed actresses who dream of becoming the next Jean Harlow.
When Amazon streamed a preview of the Tycoon pilot last year—as the company does with all potential series to get viewer feedback—votes poured in. "Not only did our customers respond strongly to the show," says Marc Resteghini, Amazon Studios' senior development executive, drama, "but we were excited about the opportunity to work with these amazing creators and cast."
Based on the unfinished final novel of the same name by F. Scott Fitzgerald and created by writer-director Billy Ray (The Hunger Games), The Last Tycoon features five-time Emmy winner Grammer in his first regular TV drama since Starz's Boss ended in 2012. Tackling the part appealed to the actor because it takes him places he hadn't gone in Cheers, Frasier or Boss. "I'm not sure I've had as complex and fully committed a character to play before," he says. "Pat is surprised by his own emotions, which sneak up on him."
Bomer was beyond excited to be working with the television vet. "I feel like I know him, because he's been in my living room my entire life," he says. "I really look to him as a mentor in many ways."
In the party scene being filmed on this balmy April day, the mentorship between Brady and Stahr is being tested. "That's really the struggle of the show," explains Ray. "Pat and Monroe love each other and they hate each other and they need each other." That hate is often brimming under the surface for Brady whenever Stahr receives industry accolades or is wooed by other studio heads hungry to steal the talented producer away. "Pat sees Monroe as something he created," Grammer says. "I think there are times Pat knows that getting rid of Monroe is the best thing for him, but Pat's also not above playing some really dirty cards to keep him close."
See Also
In Amazon's latest drama series, we'll find that 1930s Hollywood isn't as different from today as we may think!
Brady shouldn't worry too much—at least for now—since Stahr's loyalty runs pretty deep. It was Brady, after all, who helped a young Milton Sternberg (Stahr's real name) go from rags, working in a circus, to riches, as mega-producer Monroe Stahr. "You'll get little glimpses into who he was before," Bomer explains, "long before he became his Gatsby-ish self."
And soon, Stahr being part of Brady's bunch gets even more complicated. "It's quite an incestuous family we have going on," Bomer says with a laugh. "There aren't the healthiest of boundaries."
Boundaries are further pushed when the story moves beyond big movie deals and red-carpet premieres and delves into love or, in the case of Brady and his many indiscretions, lust. "The philandering was part and parcel of big success in the '20s, '30s, '40s," Grammer says. But Brady's wife, Rose (Rosemarie DeWitt), isn't exactly innocent herself. "There is a lot of love and a lot of respect, and also a lot of disconnection," DeWitt says of the marriage. "In some ways, Rose is a cliché of that era—a mogul's wife. But we get to address that and shake it up."
Less cliché, and way ahead of her time, is Pat and Rose's headstrong daughter, Celia (Lily Collins, above), whose aspirations to romance Stahr are matched only by her desire to learn the movie business and go where women didn't typically go in 1930s Hollywood: behind the camera. Not wanting to trade on her family name, Celia takes jobs in various departments at the studio to learn from the ground up. "Celia's the adventurous one," Collins says. "But because she is also quite naive going into this, she quickly has to grow up."
Celia's attraction to Stahr continues even though she's well aware that her competition is the ghost of his movie-star wife, Minna Davis (Jessica De Gouw), who died in a house fire. Stahr's bruised heart shows signs of opening once again when he meets Kathleen (Dominique McElligott, above with Bomer), a poor Irish waitress who reminds him so much of Minna that he makes it his mission to shape her into America's next household name. "Hollywood is culture shock for Kathleen, given where she's from and her background," says McElligott. However, she'll find it hard to resist the lure of Tinseltown…and Stahr.
Hollywood legends find their way into the story as well, including actress Marlene Dietrich (Stefanie von Pfetten), studio execs Louis B. Mayer (Saul Rubinek) and Irving Thalberg (Seth Fisher), director Fritz Lang (Iddo Goldberg) and gossip columnist Hedda Hopper (Melinda McGraw). But according to executive producer Christopher Keyser (Tyrant), The Last Tycoon is not simply a 1930s time capsule. It's often a mirror to today's Hollywood. "It's certainly intentional. There's no question that the more things change, the more they stay the same. So business, the movies and the conflict between making something that makes money or actually says something bigger is still around today."
The Last Tycoon, Now Streaming, Amazon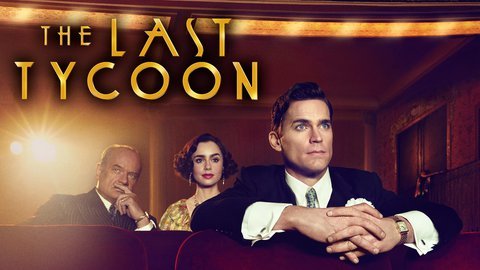 Powered by