Younger Finale: Miriam Shor on Secrets and Statement Necklaces
In tonight's Season 1 finale, Younger almost spilled the beans on Liza's (Sutton Foster) Big Lie when someone from her past (played wonderfully by Martha Plimpton) at a rival publishing house tried to blackmail the not-really-26-year-old into giving up company secrets.
Not that the beans were entirely un-spilled anyway: love interest Josh (Nico Tortorella) found out the truth about her age last week. So in addition to Liza's espionage-esque storyline, we got to see the fallout from her reveal tonight, which went from "I never want to see you again," to a sweet fresh start as they walked off together in the final scene.
Tortorella teases that this ender is "a chance for hope" between the two. "He's going to have to learn how to fall in love with her all over again," he says.
Meanwhile, Liza's still got professional gripes to worry about. Here, Miriam Shor, who plays domineering boss Diana Trout, chats with us about how Diana might react to Liza's lie (and how she really feels about those enormous statement necklaces.)
One of my favorite Diana lines in this episode was when she tells Liza, "There's no crying in publishing." Why do you think she's so hard on Liza all the time?
She worked her ass off, so [she thinks] everybody should. If you're going to be in publishing, then you should work your ass off, and if you can't handle it, go fold shirts at the Gap. She appreciates hard work. In a weird way it's a compliment that she expects so much of [Liza.]
Were you upset that she didn't find out Liza's secret?
No, I like the tension there. They're forming this friendship, and I think that Liza confuses Diana because she is this person who couldn't possibly know these things, but what Diana doesn't know is that she's actually a lot more experienced than she thinks. I like that they revealed it to Josh. [His] response in the finale really struck me. I was tearing up for him.
How do you imagine Diana would react to Liza's real age?
I don't know if you remember Oprah's reaction to A Million Little Pieces… powerful people don't like being lied to, or duped. I think that would piss her off to no end whatsoever. But on the other hand, I would think that there would have to be a part of her that would respect how far Liza went to get what she wanted. And I think those two things would do battle in her reaction.
Let's talk about Charles (Peter Hermann).
Oh that handsome, tall drink of water! He's like 90 feet tall.
Compare this to creator Darren Star's other project, Sex & the City, Charles is the Mr. Big of this show.
He is. He's the unattainable one. For many reasons Liza can't be with him, and for many reasons Diana can't be with him, but she has no idea of that yet. I like the tension it creates for Liza. Maybe if she [had] met him at a dinner party before she started this whole ruse, they would have gotten along amazingly. But it can't happen in the world she is right now. Plus, she's dating the hottest 26-year-old I've ever seen in my life, so there's that. Poor, poor Liza.
Are Liza and Josh are meant to be?
I don't know. Their relationship surprised both of them. They were just goofing off, and having a fun time, and genuinely I don't think she ever expected to fall for him, really. And then he's intrigued by her, but he's got to own up to the fact that he was intrigued by a 40-year-old mom from the suburbs.
If Diana could go out for a drink with one of the other characters and just let loose for a night, who do you think it would be the most fun to see her paired with?
It's not just because I love Debi [Mazar,] but it would be really fun to see Maggie and Diana go out and compare notes. Maybe upfront she would be a little cold to her, but I think once a shot or two happened, they could have a good time on the town and have a mutual respect for each other, and show battle scars. Which is also kind of what it's like going out with Debi!
OK, be honest: Do you love or hate the giant statement necklaces that Patricia Field gives you for Diana?
The answer is both. It's a love-hate relationship. The one where we go to the PEN Awards – Diana is like a knight and Liza's a squire and she's putting on my breastplate. It was like a Game of Thrones moment. It was literally so huge you could see my body go down with it when she put it around my neck. And the Flavor Flav, that one's actually my favorite. Even Flavor Flav would be like, "You know what? That's a little bit too far." The necklaces are crazy. They cost thousands of dollars, which is insane to me, but I love them. And I've developed incredibly strong neck and back muscles!
Any regrets for Diana in Season 1?
I was sad that I didn't to go to the hot mitzvah, because I would like to see Diana on ecstasy, just to see. Maybe in Season 2, she'll let her hair down – literally.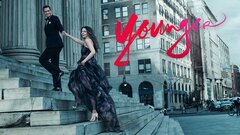 Younger
where to stream
Powered by