'Degrassi' Graduates and Says Goodbye (For Now): EP Stephen Stohn Talks Season Finale
Spoiler alert! Do not read on if you haven't watched the Degrassi season finale.
After all the high school relationship drama fades away, it's the friendships that remain—and that was certainly the case as Degrassi closed its doors on TeenNick this Friday. Over the course of the double-episode season finale Alli, Imogen and the rest of the soon-to-be-high-school-graduates seized whatever time they had left with each other to reaffirm their friendships with one another, making for a touching and memory-filled goodbye.
With eight high school seniors departing from the show, we asked executive producer Stephen Stohn to walk us through the season's final half hour.
Double D Party Planning Lives!
Former business partners and current best friends Drew and Dallas got to throw one last bash when Dallas messed up their prom boat booking. and Drew came to the rescue, using his special Degrassi access code to borrow school supplies so they could transform the Dot into the Starry Night theme Alli originally pitched. When Dallas asked Drew why he risked getting in trouble to help him, Drew cited their friendship; he wanted them to be remembered as as a team. Unfortunately Pill knew what they did, and she forced Drew to sit out the ceremony, which meant he would graduate without crossing the stage. Determined to share the moment with his best bud, Dallas had the rest of the class tape "We <3 Drew" to their graduation caps. Seeing the solidarity, Pill allowed Drew to join his peers. After throwing their caps in the air, Drew and Dallas (and Alli) vowed to keep in touch, even though they'll be living in different parts of the world.
"One of the most important things we learn in high school is that we'll be different levels of friends with different people," says Stohn of the finale's focus on friendship. "It's easy to think of the crushes and the romance, but the friendships at the end are extremely important."
Reunited, But It Doesn't Feel So Good…
With a little nudging from BFF Becky, Imogen made up with Jack and the couple attended prom together. But as Imogen sat out dance after "novelty dance" she realized it definitely wasn't the kind of night she'd been hoping for. As they prepared to collect their diplomas the next day, Imogen told Becky that she was actually her best high school relationship. Becky proved her right—after the ceremony, she started a conga line just so Imogen would get the chance to participate in one after all.
"Having a friend isn't just a gift that you're given, it's a gift that you give… And what a good, solid friendship it is," says Stohn of the two girls' bond over the years. "Just realizing, 'Hey, there was somebody who was there for me, non-judgmentally.'"
Life Without Archie (Simpson)
Mr. Simpson, who was on "indefinite leave" as principal, snuck back into school so he could watch the seniors graduate. In the process, he ran into Clare and advised her to "embrace the uncertainty" of her future, before revealing that he'll be leaving for Haiti to help build schools. Fans will have to wait for the show's return on Netflix (as Degrassi: The New Class) to find out if the change in administration was temporary or permanent.
"It was important that he leave, for now," says Stohn. "With the [Oomfchat] scandal and the school fire, clearly some things were getting out of hand."
In Memoriam
The ceremony took a moment to honor the deceased Adam Torres, with his brother, mother and former classmates present. "He really is one of the all-time favorite characters," says Stohn. "On the surface you think, 'A transgender character, how are people going to relate to him?' But I think what we all related to being a misfit. And Adam was a misfit to the highest degree."
Additionally, Stohn says it's no coincidence that the song playing in the moment is "Hero" by Family of the Year—the same song that played during Eli's video tribute last season—because "it invokes everything Adam."
No New York, New York
At prom, Clare tried to explain to Eli that even though she loved him, she can't go to New York with him because she wanted to find herself. Upset, Eli cut their dance short and left early. However the next day, he showed up at graduation to see Clare, who decided to follow Mr. Simpson's advice to take a gap year. After the ceremony, a more understanding Eli greeted Clare with the first compliment he ever paid her: "You've got pretty eyes." She tried to apologize, but he told her that it was okay and that he can't wait to love the person she becomes.
Stohn says Clare's choice to take a year off, instead of following Eli to New York, has to do with her growth as a character."People's perceptions and their understanding of life and their place in the universe evolve. It seemed important she did too."
But "Eclare" fans shouldn't give up hope of a happy ending just yet, as they are one of Stohn's favorite couples—along with Sean and Emma. "I've always thought, 'Can't we somehow bring Sean back from Afghanistan and have a nice amicable split between Emma and Spinner and then have what should've happened?' Maybe some year that can happen."
Until that happens, fans still have the original movie, Degrassi: Don't Look Back (which airs this Sunday, August 2 at 9/8c on TeenNick) to look forward to—before the show returns early next year as Degrassi: Next Class on Netflix.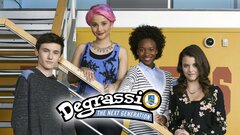 Powered by