'Degrassi' EP Stephen Stohn on Season Finale: 'All Does Not Go as Planned.'
Long before TeenNick announced the end of its 14-season Degrassi run—and Netflix subsequently gave it a new home—the teen soap was already approaching its next season as if it would be airing on the popular streaming service. "We knew that teenagers were starting to migrate from the linear television experience into the online world, so I found myself saying to [the writers], 'Let's just pretend, for the moment, that we're on Netflix this year,'" says executive producer Stephen Stohn. "We hadn't meant in any way other than as a challenge to the writers to think out of the box."
So when word came that Degrassi would not be continuing with the network, they'd already created the perfect pitch for Netflix. "It's still the same Degrassi, but with a brand-new approach," he says.
As the Emmy-nominated show's ends its run on TeenNick, eight members of Degrassi's current senior class will graduate and the actors—including Munro Chambers, whose character, Eli, is currently a college student—will be leaving the show. That leaves room for new characters, making it easier for a newer audience to dive into the long-running series.
However, before Alli, Dallas, Drew and the rest can walk the stage and collect their diplomas, there is still some unfinished business the seniors need to take care of—namely, prom. Of course, this being Degrassi, the big night might not go as planned. "If you send your kid to Degrassi, make sure they don't go to prom because something always goes wrong at prom," jokes Stohn. "Something does go wrong at this prom. All does not go as planned."
With the realization that their time together is coming to an end, many of the students will be focusing on their relationships, romantic and otherwise, as they look to the future. Fans hoping for news on the fate of Clare and Eli's relationship post-miscarriage will get their answer in the finale. "I have a soft spot for [the couple]. They provided such rich story over the years," Stohn says.
Other than Eli, Degrassi alums won't be featured in the season's final hour, Stohn says, but fans can get their fix of graduated favorites in the pre-finale special, It Goes There: Degrassi's Most Talked About Moments, an hour-long look at the series' 14-season history. "We didn't get everybody back," says Stohn. "But we got a really nice representation of some of our cast from the past coming back and talking about some of their favorite moments."
The Degrassi finale airs Friday, July 31, 9/8c p.m. (ET/PT) on TeenNick.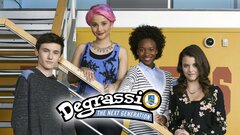 Powered by