New 'Star Trek: Discovery' Trailer Premieres at Comic-Con
Fans at San Diego Comic-Con International were treated to a sneak peek of CBS All Access' Star Trek: Discovery on Saturday. This is the second trailer unveiled by the network prior to the series' Sept. 24 debut on the streaming network.
The newest edition to the Star Trek franchise stars Sonequa Martin-Green ("First Officer Michael Burnham"), Jason Isaacs ("Captain Gabriel Lorca"), Doug Jones ("Lt. Saru"), Shazad Latif ("Lt. Ash Tyler"), Mary Wiseman ("Cadet Sylvia Tilly"), Anthony Rapp ("Lt. Paul Stamets") and James Frain ("Ambassador Sarek"), all of whom were present on today's Comic Con panel. Also on the panel were executive producers Akiva Goldsman, Alex Kurtzman, Aaron Harberts, Gretchen J. Berg and Heather Kodin.
RELATED: More Comic-Con 2017 coverage
The series is a prequel, taking place ten years before the time of the original Star Trek series that aired on NBC from 1966-1969 and starred William Shatner and Leonard Nimoy. Kurtzman assured fans during the panel that the intention with Star Trek: Discovery is to stay within the Star Trek legacy. "I think we are the hugest fans of the original series and we're taking a tremendous amount of our inspiration from it and obviously we want to be accurate. We are within canon," he said. Addressing the fact that technology is different and television viewing is different, he added, "[Star Trek: Discovery] is a little bit larger than the original series in terms of scope and scale but we're very consistent with our origins."
Here is the newly released trailer for Star Trek: Discovery:
Early in the panel, the backlash the show received for diversity came up and Martin-Green made it clear that diversity is what is at the heart of the franchise and always has been. "Star Trek's always been pictorial of diversity and of universality and unity so, as I've said before, I truly believe it's one of the main reasons why it is so important to so many people to this day. If you say you love the legacy of Star Trek but you don't love that, then you've missed it," she said. "I encourage you to come on the journey with us."
One thing that is different is that the character of Captain Gabriel Lorca is not the usual stoic leader we're used to seeing in other iterations of Star Trek. "He's probably more f***ed up than any of them so far," Isaacs said. "He's a complicated guy. It's a complicated story for our times."
Since Klingons have always been a part of the Star Trek universe, how will they be seen in Star Trek: Discovery? "Because of the story we're telling about the Klingons in this season of Star Trek, it was very important for us to have the Klingons speak Klingons with subtitles," Berg revealed, adding that it was important to the producers that we see the Klingons differently than we have in past series and films. "They [aren't] just the thugs of the universe. They have their own pride and they have their own interests. It's a very fascinating culture." And, yes, the language will be the same Klingon language from the past versions.
One big surprise in the panel is the revelation that Spock (Nimoy's iconic character) has a sibling that we'll meet in Discovery and that sibling is Martin-Green's character. "I graduated from the Vulcan science academy and went to the Shenzhou straight out of college, essentially, and she (Michelle Yeoh's character,Philippa Georgiou) took me under her wing and I basically was committed to her through my surrogate Dad, Serak (Frain)," she said. "I was raised on Vulcan by him and Amanda after the murder of my parents and so he basically commits me to her and I grow tremendously from her tutelage and it's a very close relationship. It's very similar to mother and daughter."
See Also
The announcement was made during the show's Comic-Con panel.
Frain explained of the Serak we see in Discovery that it's "an exploration of who he is when he was younger." Serak, as fans know, married a human and they were parents to Spock but we'll see the character as more emotional at an earlier time from when we met Serak on the original series (played then by Mark Lenard). "He has a half human child and a fully human child, this is very challenging to him and I think it opens up a door for him that he didn't know was there." Kurtzman, aware that fans may get worked up with adding a sibling for Spock, said, "Just be patient with us. We're aware. You'll see where it's going but we are staying consistent with canon."
Keeping with the theme of diversity, the series will have LGBT characters in Anthony Rapp's Lt. Stamets and Rapp revealed something about his on-screen love interest. "Wilson Cruz (My So Called Life) will be playing my love interest, my partner…and we're both officers on the ship," Rapp said. "My character is the first openly gay character in the world of the TV version of Star Trek. I'm very proud of that."
Star Trek: Discovery premieres September 24 on CBS and then subsequent episodes will air on CBS All Access.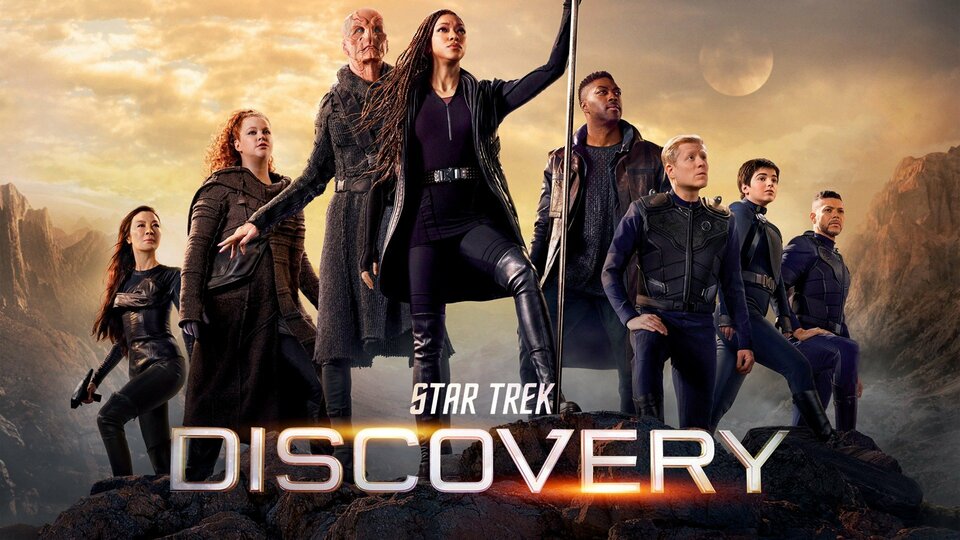 Powered by