Caitlyn Jenner's Mom is the Breakout Star of 'I Am Cait'
For years, the Kardashian-Jenner narrative has largely been about sex tapes, lip fillers and husbands hooked on crack. That all changed in April, when Caitlyn Jenner took command of the family spotlight, revealing to Diane Sawyer that she was transgender. A Vanity Fair cover and an EPSYs speech ushered in a new era for the family, with Caitlyn standing front and center, the instant face of the transgender movement.
But just three months after Caitlyn revealed she was a woman, she has a new star by her side: her mother.
Along Jenner's path to self-discovery and acceptance, Esther Jenner, 88, has quietly been stealing the show. She's frequently delivered the most honest, raw reactions to her child's transition, showing her support but never sounding like she was reading from a script. Take the ESPYs, where in a heartbreaking package, Esther said simply, "When she was receiving that medal, I never thought I could ever be more proud. But I was wrong. I am now even more proud, and believe me, I'm not losing anything. I'm gaining a better relationship with my child."
On Sunday night's highly anticipated premiere of the E! docuseries I Am Cait, Esther confirmed what we already knew: she's as much at the heart of this journey as Caitlyn is.
Early on in the episode, Caitlyn frets over what's to come that day—Esther will "meet Caitlyn" (her words for introducing herself presented female) for the first time. Esther doesn't say much in the car ride there, but it's clear she's nervous too. Caitlyn's sister Pam asks Esther what her reaction was when she first found out about Caitlyn. "I think I was silent," she says.
It's just the first of numerous instances of pure honesty from Esther, who doesn't have the years of reality TV shooting to melt her thoughts into canned soundbites.
"I think he's a very good looking woman," she says in a confessional after meeting her. "He's still Bruce."
That tension is what elevates the docuseries. It's how a mother would respond. A mother doesn't necessarily grasp the proper pronouns right away. A mother might not be ready to start calling her child by a different name. A mother may not know what to say at all.
Compare this to the faux-sitcom scene in which Caitlyn's daughter Kylie arrives to meet Caitlyn for the first time and brings along her signature blue-green extensions for Caitlyn to try. It could have been an outtake on Keeping Up With the Kardashians.
But a gut-wrenching moment in which Esther leans against a counter, chokes up and proclaims, "I love him so much," or another in which she closes her eyes and tries to reconcile acceptance with her faith–that's decidedly new, and decidedly now.
Much of the premiere is dedicated to the dynamic between Esther and Caitlyn. As the time goes on, you can see her growing more comfortable around Caitlyn. And she seems to genuinely feel that she is getting to know her child on a deeper level than ever before. It's not perfect, and it's not easy, but it's their reality.
"It's going to take some getting used to," Esther says. And that's okay.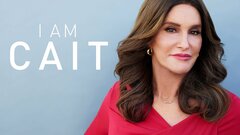 Powered by