Best Lines on TV This Week: Real Talk on UnREAL, Nerd Paranoia on Silicon Valley
UnREAL
"You're not hot enough to be crazy."
—Chet (Craig Bierko) tells Rachel (Shiri Appleby) to get it together.
Veep
"I feel like I'm about to kick it old school and die in office."
—Selina Meyer (Julia Louis-Dreyfus) takes her illness like a real politician.
iZombie
"I'm not going to prison. Have you seen Orange Is The New Black? I'm not taking a shower wearing tampon sandals!"
—Tate (Lexi Ainsworth) objects to the fashion constraints of the prison system.
Silicon Valley
"Frankly, your lack of paranoia is insane to me."
—Richard (Thomas Middleditch) worries Dinesh (Kumail Nanjiani) and Gilfoyle (Martin Starr) aren't worried enough about a potential hacker.
Younger
"That's in the Torah? I could have sworn that's an episode of Game of Thrones."
—Josh (Nico Tortorella) appreciates the drama in Lauren's (Molly Bernard) Torah reading at her "Hot-Mitzvah."
Inside Amy Schumer
"Remember, women can't deny the authority of therapy and/or Oprah."
—Amy Schumer schools men in key to dealing with emotional women.
Community
"If I had no self-awareness, I think I'd know. "
—Britta (Gillian Jacobs) misses the point when firing back at Abed's (Danny Pudi) criticism.
The Whispers
"My mom, she said grief is like a suitcase that's at the bottom of your bed. And no matter what, without fail, you have to pick it up everyday, take it with you. Some days it will be filled with rocks and you won't think you can carry it. And then other days, light as a feather."
—Claire Bennigan (Lily Rabe) shares advice her mother gave her to deal with her husband's death.
Aquarius
"If no one owns something, it can't ever be for sale."
—Charles Manson (Gethin Anthony) tells Emma Karn (Emma Dumont) that there's no amount of money her father could pay to get her back.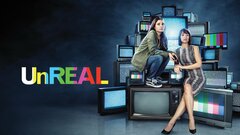 UnREAL
where to stream
Powered by