'Face Off' Returns With Some Ghastly and Ghoulish Challenges
Till death do us part? Not even the Grim Reaper can separate these newlyweds! Syfy's makeup-competition series Face Off returns for Season 9 tonight, with the contestants given the task of combining two human models into one alien animal. But the truly epic merging comes in the show's 100th episode (August 11), when the contestants transform seven real-life couples into corpse brides and grooms. The duos are then married by host McKenzie Westmore.
Each ghoulish wedding has a killer backstory: One pair of lovebirds died via electrocution; another froze to death while Christmas caroling in the woods; yet another committed tandem suicide by leaping from a bridge.
"We had to find some very easygoing women who weren't looking to control their own weddings—no Bridezillas allowed!" says Westmore (far right), who became an ordained minister via the Internet in order to officiate the nuptials. "According to my certificate, I can marry, baptize and absolve sins. The moment after the show when I got to sign each couple's marriage license was so cool. Now," she adds with a laugh,"I'm out looking for other people to marry! I am all about the romance."
And how! Westmore, who says she "probably wed 15 times" as heiress Sheridan Crane during her nine-year run on the NBC soap Passions, will get hitched October 11 to production designer Patrick Tatopoulos (Batman v Superman). They met when he was a judge on Face Off. "We're having the ceremony in a vineyard in Malibu," Westmore says. "It'll be small, intimate, to the point, no fuss. I even found my dress in a prom store."
She's also busy shooting Season 10, the first since Face Off won the Critics Choice Television Award for best reality competition, beating behemoths America's Got Talent, The Voice, Dancing With the Stars and The Amazing Race. "That trophy for our 'little show that could' sent our morale through the roof," Westmore says. "Just one problem: Now we have to top ourselves. But I think we'll figure that out!"
Face Off, Season premiere, Tuesday, July 28, 9/8c, Syfy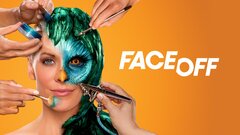 Powered by