Piers Morgan: I'm returning to 'America's Got Talent' judging table Piers Morgan: I'm returning to America's Got Talent judging table
Morgan tweets he's not replacing anybody when he reappears on the judges' desk later this summer. Morgan exited in 2011 to host his own CNN talk show, with Howard Stern replacing him. NBC has yet to confirm Morgan's return. PLUS: Dunkin' Donuts signs on for America's Got Talent product placement.
Empire's Taraji P. Henson and Terrence Howard will host the Guys Choice Awards
"Do I have to do this with this chick?" Howard says in a promo for the June 18 Spike TV event.
Coming soon: Tina Fey & Amy Poehler SNL Weekend Update figurines
The figurines will be available at Comic-Con.
Amy Schumer responds to ABC's The Bachelorette offer
"Here I come!!"
Jeffrey Dean Morgan: I ate 1 can of tuna a day to drop 40 pounds for Texas Rising
The History channel miniseries producers wanted him to lose 10 pounds. "I ate a can of tuna fish a day," he says. "I did it in the most unhealthy way possible…I didn't consult with a doctor or anything. We had said maybe we should lose, like, 10 pounds, and I just kept going and going, and by the end of the movie, I was just (moving) like a snail!" PLUS: Texas Rising premieres to 4.1 million viewers.
Veep writers "flung ideas around" with Hugh Laurie before arriving at Tom James
"I knew that Hugh was a fan of the show," says creator Armando Iannucci, "and I'm a huge fan of Hugh from way, way back with his comedy that he did in the UK. We just connected, really. Each heard that the other was interested, and we just kind of hooked up in London and chatted for hours about it. Hugh met up with the writers as well." PLUS: Is Veep foreshadowing Hillary Clinton's VP pick?, and watch a profane Veep supercut.
Critics' Choice Television Awards honors The Muppets and Supergirl among TV shows yet to air
They are among the "most exciting new series" coming to TV. PLUS: Muppets boss Bill Prady tweeted: "First time I've ever been nominated for an award BEFORE making the show!"
Will The Mentalist reruns hurt James Corden's momentum?
Thanks to Justin Bieber, The Late Late Show host already has a viral video more viewed than Letterman's most-watched viral video. Yet some are wondering if Corden airing after reruns of CBS crime shows will hurt him just when he's gaining momentum.
Comedians in Cars Getting Coffee returns next week with Julia Louis-Dreyfus — watch the new promo
Jerry Seinfeld's web series will be debuting new episodes at 11:30 pm for Season 6, starting with his former Seinfeld co-star on June 3.
Liam Neeson is TV's best ad pitchman
Actually, Neeson is tied with Pierce Brosnan in a new survey from Nielsen, but the Taken star "was judged to have a greater influence in getting products sold."
How Inside Amy Schumer "sneakily spoofs" female fashion
Schumer's outfits, says Rebecca Harrington, "manages to affectionately skewer feminine tropes while answering, with a semi-straight face, a question that bedevils many a woman: What do I wear? What would one wear to a gangbang? What should one wear while sexting? What does one wear as a contestant on the bachelor?"
HBO developing a VA hospital limited series
Unarmed would follow a psychiatrist at an Armed Forces medical center who specializes in treating amputees and burn victims injured at war.
Nick Offerman shares the letters he and Conan O'Brien sent each other
Offerman, who was rapping for Conan years before Parks and Rec made him famous, writes in his new book Gumption: "I guess the headline here is: We talk to each other like total nerds. Passionately. Unabashedly."
Daredevil gets the Law & Order treatment
Watch the Netflix series with the Dick Wolf opening.
By depending on freak shows, TLC should've seen 19 Kids and Counting scandal coming
"Do me a favor, TLC. Please don't say you never saw this coming," says Michael Starr. "You play with fire, you're gonna get burned." PLUS: Josh Duggar's dad once said incest should be punishable by death, and Mama June is still ticked off that TLC hasn't canceled the Duggars.
Ripper Street's Charlene McKenna to star in Lifetime's Clan of the Cave Bear pilot
She'll play the Clan's medicine woman in a series about cave dwellers from 25,000 years ago.
Will the explosion in quality TV make most essential shows less essential?
The surplus of great cable shows may actually turn people off cable instead of keeping them from cutting the cord.
Kris Jenner is trying to trademark "momager"
Jenner is finally embracing the nickname given to her by the Keeping Up with the Kardashians viewers.
Designing Women's on-set drama, explained
Here's what happened after Season 5.
Why your favorite TV show got canceled
Sometimes, shows get axed because they're not owned by the same corporation that owns the network they're on.
The Bachelorette's Trista and Ryan Sutter get their own HGTV home renovation show
They'll star in Rocky Mountain Reno.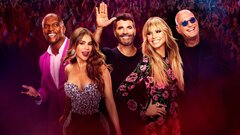 Powered by