The Emmy Nominations Set Twitter Aflutter
Entertainment journalists aren't the only ones out there with an opinion about this year's Emmy nods. If you haven't met the Internet, it's chock full of folks with no shortage of something to say. Many are spot-on, and others, we suspect secretly live under footbridges, feeding on souls and living only to spread misery. Nevertheless, they can all be loud, hilarious and (warning!) foul-mouthed when it comes to online outrage and excitement, depending on what side of the nominations you stand. (Plus: See how this year's Emmy nominees reacted and visit the TV Insider Emmys page for more coverage.)
Some famous Orphan Black fans couldn't contain themselves…
TATIANA! TATIANA! TATIANA! TATIANA! TATIANA! TATIANA! TATIANA! TATIANA! TATIANA! TATIANA! TATIANA!

We don't have to burn the streets y'all!

— Retta (@unfoRETTAble) July 16, 2015
@tatianamaslany ahhhhhhh!!! #notsnubbed

— Amy Schumer (@amyschumer) July 16, 2015
Nor could some Orphan Black stars…
@amyschumer YOU!!! YOU CONGRATULATIONS! I'M SO HAPPY FOR YOU!! You're my favourite one :) #veryfuckable

— Tatiana Maslany (@tatianamaslany) July 16, 2015
Some fans of The Americans were generous despite their disappointment…
https://twitter.com/closer2fine/status/621705704383102976
Others were dismissive…
The #emmys lose all credibility by ignoring the best show on TV @TheAmericansFX

— Dan Zampillo (@danzampillo) July 16, 2015
And some took it out on innocent victims.
Looked at list of Best Drama series. The Americans is not on it. Throw TV out window.

— Emily Nussbaum (@emilynussbaum) July 16, 2015
Happiness reigned in parts of the Empire camp…
https://twitter.com/natalie_woods14/status/621709227241959424
While its Best Drama snub got others all fired up.
Wait @EmpireFOX wasn't nominated for an #emmy – I call bullshit! #emmynom #EmpireFOX

— Jaime Primak (@JaimePrimak) July 16, 2015
As did Outlander's…
@Outlander_Starz @SamHeughan @caitrionambalfe No matter what the dumbass #emmys say, you are our superstars! #EmmysForOutlander

— JAMMF_fanatic (@JAMMF_fanatic) July 16, 2015
And Marvel's Agent Carter…
Marvel's Agent Carter was completely snubbed. No #Emmys nods.

— Gregory Ellwood – The Playlist 🎬 (@TheGregoryE) July 16, 2015
And The Mindy Project.
Of course another year #themindyproject doesn't get recognized by the #Emmys pic.twitter.com/0RVNt4cAFi

— Liz (@IAMLIZZYLIZARD) July 16, 2015
Some spoke bueno of the dead…
Hannibal… 0 nominaciones #Emmys

— cinelander (@cinelander) July 16, 2015
Others were less-than-rapturous…
How can The fucking Newsroom and GOT get nominations and not The Leftovers aka the ONLY HBO show other than Veep that matters?? #Emmys

— M❄️lly (@onlyoneloislane) July 16, 2015
And at least one tweeted from 2003…
Still don't understand how streaming shows on Netflix can be eligible for #Emmys – if I can't find it with my remote, then it is not on TV.

— Phillydude (@Fairwinds10) July 16, 2015
But everyone had their favorites…
https://twitter.com/PritiKothari/status/621711433898795008
https://twitter.com/kelsfar/status/621711454325067776
Favorite random nomination: Jon Hamm for Unbreakable Kimmy Schmidt. #Emmys

— Brittany J (@brittej) July 16, 2015
Jim Parsons as Sheldon is lovely, yes, but… What happend with @JustifiedFX? This was the last chance for them! Great cast & story! #Emmys

— Lu ⎊ 🕸🏳️‍🌈 (@ZhangRei) July 16, 2015
Even if celebrating them meant blowing out one candle to make another shine brighter…
Loving the #Emmys nominations. Pumped BETTER CALL SAUL got so much love, also happy Jim Parsons got none.

— David (@DavePalmer41) July 16, 2015
Or just speaking the truth…
Emmy nominations are like Christmas morning, and Modern Family is like the same exact nail polish my mom puts in my stocking year after year

— Megan Sweet (@MeganSweet57) July 16, 2015
Shame on you #Emmys for not nominating @Nick_Offerman this year. Yet Modern Family continues to sleepwalk its way to more noms.

— Kim R. (@kimberrussell) July 16, 2015
Another year of Hollywood pretending Modern Family isn't a trash show.

— Adam (@adamg1224) July 16, 2015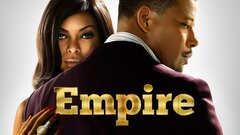 Empire
where to stream