What's On: 'Preacher' Looks for a Missing Tulip, the Young 'Will' Shakespeare, 'POV' and Syria's White Helmets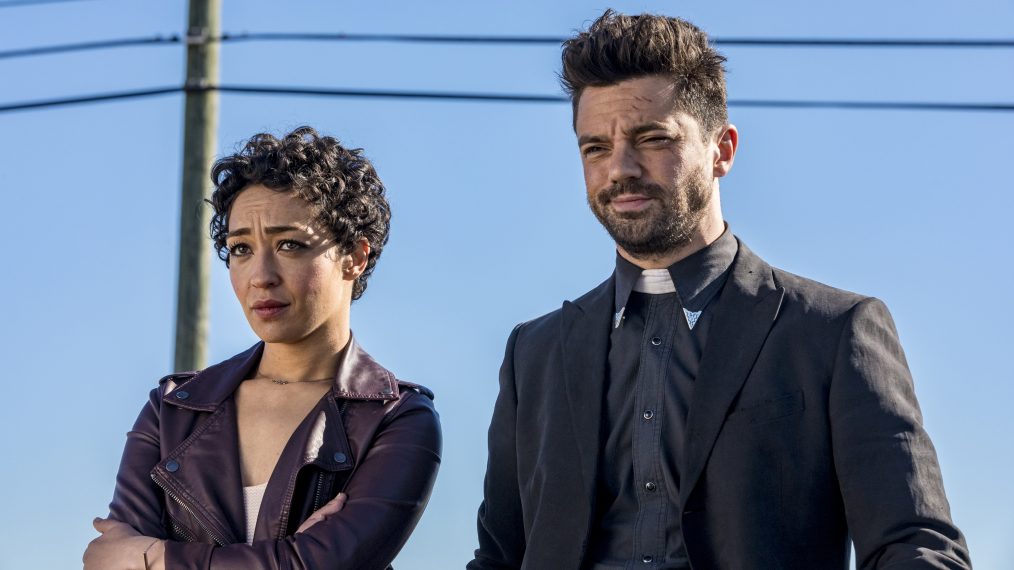 Preacher (9/8c, AMC): Just who is "Viktor" (this week's episode title), who has Tulip (Ruth Negga) so rattled upon her return to New Orleans? More becomes clear as she becomes his prisoner, and Jesse (Dominic Cooper) would probably be more concerned if he didn't assume she was just cooling off from their latest spat. Cassidy (Joseph Gilgun) keeps hinting at the worst, but the Padre is still seeking God, a quest that takes an unusually inspired show-business twist. Down in the malfunctioning cellblock of Hell, poor Eugene (Ian Colletti) makes the acquaintance of one of history's most notorious villains, who doesn't quite live up to his reputation. And the episode ends with a fight scene that's so grisly-funny even Tarantino might be impressed. The exhilarating second season is getting wilder by the episode.
Will (9/8c, TNT): All the world's a stage for young Will Shakespeare (rakish newcomer Laurie Davidson) in this bawdy historical drama that imagines the playwright in his starving-artist period, arriving amid the chaotic bustle of 1589 London. Will has ambition to burn, but also a secret—he's a closet Catholic—that could get him burned by an evil inquisitor as Elizabethan England succumbs to a frenzy of religious prosecution. There's a contemporary feel (including a pounding modern soundtrack) to this stimulating new series, premiering with back-to-back episodes, recreating a riotous era where there's an insatiable appetite for what's new.
Last Men in Aleppo (10/9c, PBS, check local listings at pbs.org): The POV documentary anthology wraps its series of specials on the Syrian conflict with a film about the volunteer heroes known as the White Helmets, who rescue survivors of attacks in rebel-held sections of war-torn Aleppo and provide emergency services in the most harrowing of conditions. The White Helmets were the subject of an earlier Netflix documentary that won a documentary-short Oscar, and this film, directed by Feras Fayyad, won the World Documentary Grand Jury Prize at this year's Sundance Film Festival.
Inside Monday TV: In anticipation of his appearance on Battle of the Network Stars later this summer, The Brady Bunch's Barry (Greg Brady) Williams hosts a weeklong MeTV stunt, The Brady Bunch—Barry's Best, with a specially selected episode every weekday at 5/4c, including personal anecdotes. Up first: the pilot episode that brought the families together. … Before digging into a new season of Bravo's The Real Housewives of Orange County (9/8c), check out TV Insider's ranking of all 99 housewives from across the franchise, from worst to best.