Comic-Con 2017: Your 'Supergirl' Burning Questions Answered
Is Supergirl really stronger than Superman? Controlled by evil Queen Rhea (Teri Hatcher), Superman (Tyler Hoechlin) battled Kara (Melissa Benoist) in the season finale… and she beat him! "Even though Superman was under a spell, he wasn't impaired in any way," Kreisberg says. "He thought she was [iconic Superman baddie] Zod, so he was fighting with every last fiber of his being." Likening the showdown to the end of Rocky—"they're both heavyweights throwing haymakers at each other"—Kreisberg points out that Supergirl won "by one punch. If he hadn't gone down, he may have knocked her out. That's how close it was." Season 3 rematch, please!
Will we see Zod (Mark Gibbon) again? "It was more a fun cameo—we have no plans to bring him on," Kreisberg says. "We see our version of Superman as one who has already gone through everything that exists in the mythology. He's already fought Zod, Brainiac, Doomsday. Also, what is the new thing we could bring to it? Between [big-screen Zods] Terence Stamp and Michael Shannon, I'm not sure what meat is left on that bone."
Where exactly did that vortex take Mon-El (Chris Wood)? Kreisberg assures us Wood's hot hero will be back in Season 3, but is mum on his current locale. "Where he went and how he returns is one of the central mysteries at the start of the season," he explains. "The more astute comic book fans may have a semi-good guess as to where he went."
See Also
The former Lois Lane of 'Smallville' is replacing a member of the Zor-El family.
Has Kara's former boss, Cat Grant (Calista Flockhart), known her secret identity all along? Of course! "I wanted to reveal that last year," Kreisberg says. Ultimately, he decided to address it this year, which led to the "hero's journey" heart-to-heart between Cat and Kara in the finale. "Ostensibly, she's talking to Kara, but she's really talking to Supergirl."

Does Batman exist in Supergirl's universe? While discussing the public's fear of masked vigilantes such as Guardian, James (Mehcad Brooks) said, "People see this big guy in a scary mask…like Clark's friend." Admitting "that was just a fun Easter egg," Kreisberg quickly shoots down the idea of the Caped Crusader showing up. "Batman is being done aplenty with Gotham and the movies."
Will there be a #Sanvers wedding? After helping vanquish Rhea, Alex Danvers (Chyler Leigh) popped the question to girlfriend Maggie Sawyer (Floriana Lima). "We have an amazing, beautiful, modern, smart story for Alex and Maggie," the executive producer promises.
Who is the new baddie? Reign is in the forecast! As seen in the finale's flashback, DC Comics' Worldkiller bioweapon escaped from Krypton just as Kara and Kal-El did. Calling their take on the character, to be played by Odette Annable, "something we've never done in terms of our big bad before," Kreisberg promises a less-sexualized, more-heartfelt version than in the comics. "It's going to be really special, really emotional and really exciting," he says.

This article appears in TV Guide Magazine's Comic-Con special issue.
Purchase the 2017 Comic-Con collector's issue for more Supergirl burning questions—and answers.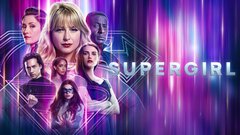 Powered by