'iZombie' Season 2: Returning Peyton, Shirtless Major and 'Real Housewife' Brains
iZombie fans got a surprise guest at Friday's Comic-Con panel: Aly Michalka, who plays Liv's roommate Peyton who, in Season 1's penultimate episode, witnessed Liv go into full zombie mode—and promptly ran away to Europe, fate to be determined.
But good news! Peyton will be back for Season 2, bringing iZombie's SDCC experience full-circle—last year, the pilot was supposed to screen at the conference, but was pulled at the last minute due to Peyton's character being re-cast (with Michalka taking over the role).
RELATED: Like the photo above? See more pics from our Comic-Con photo booth here.
That wasn't the only Season 2 sneak peek that fans were treated to. Showrunner Rob Thomas (of Veronica Mars, not Matchbox Twenty fame) also clued the audience in to the first three brains that Liv, the titular zombie, will eat next season: grumpy old man brain, frat bro brain (which Thomas described as "bro-licious!"), and Real Housewives of Seattle brain, a nod to the show's Emerald City setting. Rose McIver, who plays Liv, is originally from New Zealand, and has been talking to the writers about having Liv eat a Kiwi brain at some point this season, so she can use her normal accent in an episode. "We have a few big ideas for ways [the accent] could happen, and I'm going to be sending a few emails to some friends of mine back home," she said.
RELATED: How iZombie Makeup Artists Turn Rose McIver Into the Undead
Of course, there were plenty of hints that Robert Buckley (who plays Major) would appear shirtless. But don't take that rumor too seriously—it's a running joke with the writing staff, who enjoy teasing Buckley with upcoming scenes for his character. "On whiteboards around the [writer's] room we have all the beats of the first six episodes, and last year, when he came in, on each one of them we had, in red dry-erase marker, some reason that Major would take off his shirt," Thomas explained, noting ideas such as "Major puts on sunscreen… slowly" and "Major dries his body with itchy shower towel."
The joke even made it into the script the writers gave Buckley for the finale, dictating that he'd be shirtless while massacring Blaine's (David Anders) crew of zombies at their homebase, Meat Cute. "I was eating, like, half an almond a day, and for my cardio, I was just crying profusely, until we got to the TCAs and they were like, 'Oh, we were just messing with you!' And I was like, 'Yeah, well, I was just messing [with you], fainting earlier!'"
Don't worry too much about Buckley, though—he's a jokester through and through. Malcolm Goodwin, who plays Detective Clive Babineaux, recalls struggling to keep a straight face while filming a scene with Major, as Buckley had been holding his hand "for dear life" until right before they started shooting. "In a lot of ways," Buckley explains, "Malcolm is like my Chad Lowe. He is my rock. And I found that before that scene, to get really centered and feel good, I wanted to hold his hand. And you know, typical selfish actor, he did not want to hold my hand."
RELATED: iZombie's Rob Thomas and Diane Ruggiero Wright Answer Our Burning Questions About the Season 1 Finale
The cast also joked about Rahul Kohli (Ravi) and his tendency to draw phallic images on set between takes, and the time he accidentally stuck a prop from a real morgue in his mouth during a scene (he's now affectionately referred to as "Death Breath.")
When a fan asked if Liv and Blaine might have a romantic relationship like Spike and Buffy from Buffy the Vampire Slayer in a future season, Thomas was quick to point out that Blaine isn't exactly a sympathetic character. He says, "I keep getting stuck on this idea that Blaine has killed dozens of teenage runaways!" Diane Ruggiero-Wright, another writer on the show, is adamant that no one cares about that, and that what matters is the charm of the actor who plays Blaine, countering, "If anyone could get away with killing homeless children, it's David Anders."
Still, Thomas said that Liv and Blaine will get closer in Season 2, as Vaughn Du Clark, CEO of Max Rager (the energy drink that kind of started the zombie epidemic in the first place) decides to exterminate the zombies. "That's going to be a big storyline," Thomas said. "Some of the zombies who have been on the offensive in season one are going to be on the defensive in season two, and it will make strange bedfellows out of Blaine and Liv."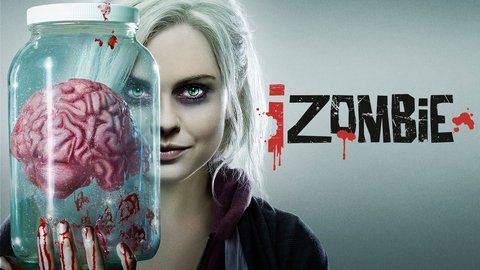 iZombie
where to stream
Powered by