iZombie Finale: Rob Thomas and Diane Ruggiero-Wright Answer Our Burning Questions
Spoiler Alert! Stop reading if you have not yet watched the iZombie season finale!
Don't turn around, uh-oh! The CW's iZombie concluded its first season on Tuesday with an action-packed hour that saw Major (Robert Buckley) unleash a massacre at the Meat Cute against Blaine (David Anders) and his zombie minions. But after he sustains a life-threatening injury, Major's ex-fiancé Liv (Rose McIver) saved his life by first turning him into a zombie, and then immediately administering a dose of the untested cure developed by her boss/confidant, Ravi (Rahul Kohli). And the only other shot of the cure went to Blaine, against his wishes. We picked the brains of executive producers Rob Thomas and Diane Ruggiero-Wright for some death-defying scoop on Season 2.
What's next for Liv and Major?
Now that Liv has finally admitted to her former lover that she's a zombie, the couple could get back together, but not without first confronting some trust issues. "It's going to be rocky going forward," Thomas says. "But at a certain point, now that everyone is in the loop about what she is, they may give it a go and see what kind of relationship they can have." Major will also reassess his attitude towards zombies in general. "He will recognize that there is such a thing as good zombies and they don't necessarily equal evil," Thomas says. "He will be more included to judge each zombie by his own merits."
Is Liv's brother going to die?
Last we saw Evan (Nick Purcha), he was critically injured in a hospital room and Liv decided against using a transfusion of her own zombie-infected blood to save him. But Thomas insists that doesn't mean the end for the character. "I want that to become a driving question until we air again," he says.
Will Clive go rogue?
The good detective (Malcolm Goodwin) doesn't believe the full story behind the late lieutenant and secret zombie Suzuki (Hiro Kanagawa), and will begin his own investigation into the truth. "Clive is going to be doing some digging on his own, and that's not going to be a very popular road to take because people think the lieutenant is the big hero," Ruggiero-Wright says. "He started off being a newbie to homicide in Season 1, and in Season 2, every action he takes to uncover what really happened that night is going to make him more of a pariah." Season 2 will also explore more of Clive's life away from the force. "I want to see Clive without the leather jacket, but I don't mean naked," Ruggiero-Wright says with a laugh. "I want to see who he is as a person, so you will see more of his backstory."
Is Blaine gone?
Now that he's been cured, the zombie baddie is undead no more. "But he's not going to be disappearing," Thomas insists. "His mission statement will be a bit different next year and he will be in a completely new business." Steven Weber will also be back as Max Rager energy drink boss Vaughn Du Clark with a renewed passion to rid Seattle of its zombie population. "Blaine and Liv may even end up as strange bedfellows trying to prevent zombies from disappearing off the map," Thomas hints.
Will there be any side effects from the cure?
While both doses of the zombie antidote appear to have worked on Major and Blaine, Ravi might discover issues with his original formula. "The cure is not done," Ruggiero-Wright says. "And with any potential complications that may arise, that's an element that Ravi's going to have to contend with in the second season."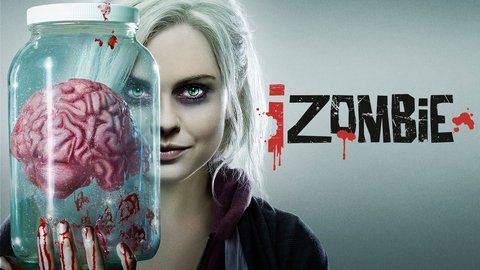 iZombie
where to stream
Powered by