'Orphan Black' Reveals a Blooper Reel, Spoof Trailers and Origin Stories at Comic-Con
Alright, Clone club, the stars and minds behind Orphan Black gathered together at Comic-Con on Friday for a panel moderated by honorary seestra Retta (Parks and Recreation). Despite competing with Star Wars, the BBC America hit pulled a sizeable crowd to see Tatiana Maslany, Ari Millen, Dylan Bruce (RIP, Paul!), Jordan Gavaris, Kristian Bruun, Maria Doyle Kennedy, and co-creators John Fawcett and Graeme Manson.
Before we tell you about anything else, drop everything you're doing and watch:
A hilarious blooper reel of the cast goofing around …
… and the most amazing trailers ever combining past season's scenes for Donnie & Alison 2: Seestra Sineestra …

… and Donnie y Alison: Las Drogas del Amor.
Here's what else we learned from the evening's conversation:
Print pages are ahead
An Orphan Black comic book centered around Helsinki (which Delphine risked her life to protect the Leda clones from) will arrive this fall.
Retta's got some A+ one-liners
Our favorites included "Is Helena ever going to get concealer?" and "As a lesbian… SUPPORTER."
Dylan Bruce is coping with his character's fate
Is he upset? Nah. Well, maybe a little, but he also expressed a lot of excitement over "going out like a boss" when asked about it. Also, apparently mama Bruce thought Paul was "kind of a douche." So why is Bruce there and not Evelyne Brochu, who plays recently deceased (though maybe not) Delphine? "This is my swan song, guys," Bruce said. "Once you're in Clone Club, you're always in Clone Club."
Alison and Donnie's twerking started with booze
The scene where Alison and Donnie twerk on a bed full of cash in their undies was actually conceived during 2014's Comic-Con while the cast was out drinking at a bar. Bruun said he underwent two fittings for those tighty whities. He also referred to himself as "the Canadian Shakira," and later asked, "Who wouldn't want to twerk on a bed full of money?"
Tatiana Maslany has a flaw
We've found it, folks. And it's a doozy. Maria Doyle Kennedy disclosed that, "Occasionally she just lets one off. She just farts." Ha!
Krystal has comedic inspiration
According to Maslany, who is a big Kroll Show fan, Jenny Slate's recurring Liz B. in the Comedy Central PubLIZity sketches inspired our newest hyper-active clone. "Crystal came out of a caricature," she says. "The fun thing was finding her humanity."
Delphine's status is still a mystery
Co-creator Graeme Manson was very coy and mysterious when speaking of Delphine's current status, telling the crowd that she is "Orphan Black dead" … whatever that means. At least there may be hope, Cophine fans!
Choosing favorites
Maslany revealed that if something ever happened to any of the clones she would miss quirky soccer mom Alison Hendrix the most.
Kira's secrets will be revealed
The panel teased that we'll learn more about what exactly is going on with Sarah's daughter Kira (played by Skyler Wexler) in Season 4. "There's something about Kira that can't be explained by science," Manson says.
Plus: Follow our full coverage on TV Insider's Comic-Con page.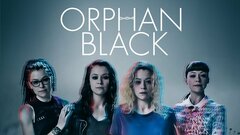 Powered by