Anthony Geary to Exit General Hospital
It's a shock. Then again, it's not. Eight-time Emmy winner Anthony Geary—the most revered and trophied actor in daytime drama—has decided to leave ABC's General Hospital at the end of his current contract. Geary will continue shooting at the hit soap until late June and remain on air for a month or so after that. Then he's off to his second home in Amsterdam where, for the last few years, he has been spending more and more time. A rep for ABC Daytime says, "The door at GH will always be open to Tony and we hope that he will make a return visit at some point, even if just for a few weeks." What's behind this major life decision? And what will become of the iconic, yet horribly screwed-up, Luke Spencer? Geary gave us the exclusive scoop on his Port Charles farewell.
What's the deal here? Are you just quitting GH or retiring from show business altogether?
I don't like that word "retirement." It sounds like some guy sitting around the pool drinking Mai Tais until his heart gives out, and that's not me. I'm an actor, a showbiz kid. This year marks 50 years for me in this business—a half-century of professional work—and I am not about to bring that to an end. I will always act. I will always be looking for another project.
So why take a hike from GH, and why now?
The people at ABC and at GH have been amazingly good to me, allowing me to live on two continents and treating me, for the most part, extremely well. This show has been a huge part of my life for over half my life and Luke Spencer is my alter ego. But I'm just weary of the grind and have been for 20 years. There was a point after my back surgery last year where it became clear to me that my time is not infinite. And I really don't want to die, collapsing in a heap, on that GH set one day. That wouldn't be too poetic. [Laughs] In fact, it would be poetically incorrect. I have another life and I want time to explore it. Ever since I discovered Amsterdam and made it my home, I have found my artistic and social fulfillment there. One of the first things I will do when I leave GH is go back to my language classes. I want to be so fluent in Dutch that I can pursue film or theater work over there. And there are always American actors in European films. I don't see why I shouldn't be one of them.
When did you make this decision?
This past January. [GH executive producer] Frank Valentini knew it was coming. They have done a magnificent job writing Luke's story, especially with what culminated in the 52nd anniversary show, but where do we go after this? There are still some surprises, the usual twists and turns and interesting guest stars coming up before Luke leaves town, but where we've gone in these last couple of months would be pretty hard to top.
Where does this leave your great screen partner, Jane Elliot [Tracy]?
It's going to lead to the most wonderful, ass-kicking performance from her, and nobody kicks ass like Jane. We just shot some stuff the other day where she is so fabulous. Such fire and pathos!
Then you don't see your departure as a bad thing for her?
No, I don't. Jane has been tied to my story these last few years in an up and down love affair that's been a lot of fun. But it seems that if I don't work then she doesn't work. If I leave the show for a few months, they mysteriously don't seem to be able to find ways to keep her involved. But now it looks like they're going to keep her busy. That is my fervent hope for the show and for Jane, my best friend. Putting Luke with Tracy was a weird idea that somehow worked like gangbusters. Jane is the best thing that ever happened to me on GH. Luke's love for Laura [Genie Francis] was a youthful thing. He saw Laura as the damsel who needed saving. That's love but an unequal kind of love. Luke's love for Tracy has been infuriatingly, wonderfully equal and much more mature.
Do you know how Luke will be written out?
I've been given a sort of Reader's Digest version of the story.
Which I'm guessing you can't spoil. But perhaps you can answer this: What kind of a sendoff do you think is appropriate here?
Here's what I see happening: Luke Spencer is a man who has finally come to grips with the secret and the core of his life—he killed his father and accidentally killed his mother—and he can now see that he has conned and slimed his way through this world for several decades. As charming as he may have been, here and there, he has been a leech on other people. For me, it makes perfect sense that he is left standing alone and that he must go off and find his purpose in life with whatever time he has left. His children are grown, and being a father and grandfather was never fulfilling anyway. It's no longer fun to careen from adventure to adventure. He's never had a proper job. What's he going to do, become a bank manager? If I were in his place, I'd go to Tibet or Nepal on some kind of spiritual journey, even though he's an atheist. He needs to be at peace. Or the other option is to just end it all, but suicide would make the audience very dissatisfied, and the network would never stand for it. Luke should make a contribution somewhere, maybe go to India and work with children or go to Africa and work with AIDS patients. That is the only thing I can see. He's looking for redemption and a reason to forgive himself for what he now knows has been a really fun ride at everybody else's expense. The logical and honorable thing for him to do would be to leave the people he loves behind, with the hope that when he sees them next he's going to have something worthwhile to offer them. And, if he doesn't have anything worthwhile, they'll never see him again.
There are fans who are hoping the upcoming return of Genie Francis to GH means some sort of Luke-and-Laura reunion.
Genie and I agreed several years ago that the love of Luke and Laura had run its course. They have children together and a very storied history and there's definitely still love there but I think they're toxic to each other at this point. She's been in an asylum. He's been in an asylum. Life has not always worked out for them.
How did you feel about reuniting with Genie on stage at the Daytime Emmys? Clearly, the telecast producers were milking that old Luke-and-Laura magic.
I felt great about it, actually. I had an epiphany shortly after the GH anniversary episode, when I was hearing the writers' ideas of how Luke Spencer would leave the show and I was not on board with a lot of it at first. But then I realized, you know what? I don't have ownership of this character. I have deluded myself all of these years that I could bully writers and producers into doing things my way, and a lot of times I bullied quite successfully. I have bullied, cajoled, and subverted! I know how to do all those things well but that has been very costly to me and to others. And so I finally had a talk with myself and realized that Luke Spencer belongs to ABC and to whoever is writing and producing GH. And there was a great weight lifted off my back when I accepted that. I will do my best with the material they give me in these next few weeks and I will fight to make it honorable but, at the end of the day, I am a color on the palette. I am not the painter. And I am finally at peace with that. [Laughs] God, it only took me 37 years on this show to figure that out!
Is there ever a moment where you reflect on your decision to leave and think, "What the f— have I done?"
There was. But not since March. The closer it comes, there is less anxiety and dread at seeing the end of the tunnel and it's more like nirvana because my life is now wide open.
You're a man of the theater! You know that the third act is where all the really good s–t happens.
That's what I keep telling myself—that I'm about to raise the curtain on my third act. It's a blessing that I can make this choice. I don't have any ex-wives or errant children to support. What I've got is all mine. And any dread of leaving was softened by Frank Valentini saying, "We'll take you back whenever you want." I am fortunate in that I don't have to work again. I have put my home in L.A. on the market. But work is in my genes. I will rest and reassess for a few months. And I will write. I will be ready with that memoir I keep telling you about. [Laughs] There are just a couple of funerals that have to happen first. You know, it's funny. Success and endurance and survival in this business is all so subjective. The other day I was having lunch at The Grove and a person came up to me and said, "Excuse me. Please don't take this the wrong way but you look like Anthony Geary." [Laughs]. It's my favorite thing anybody has ever said to me!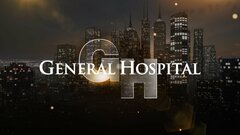 Powered by