General Hospital's Anthony Geary on Luke's Killer Secret
It's a day that will live in soap-opera infamy. To celebrate its 52nd anniversary, ABC's General Hospital devoted its April 1 episode to a startling and tragic event that took place back in 1963 on what would have been the very first day of the soap—an event that explains why Luke Spencer, the anarchist antihero played by Anthony Geary, is now suffering from a splintered personality. We spoke by phone with the seven-time Emmy-winning Geary—he's at his home in Amsterdam on a five-week break from the soap—to get his take on Luke's "killer" secret. Caution: Read no further if you haven't seen the episode!
Wow. There is so damn much to discuss! Let's start with the biggest revelation of the anniversary episode—that Luke killed both his mother and father. As we know, he also killed his grandson, albeit accidentally, a few years back. He's a cross-generational serial killer!
Isn't that interesting? I think that we can, without hesitation, refer to him as a serial killer now, and I am delighted. Most of the time when Luke has killed over the years, he really felt he was removing people from the earth who deserved to be removed, though it wasn't his place to make those decisions. That was always a stretch for me—just a wonderful conceit I played along with—but now it makes total sense. Luke became like his drunk, abusive father only worse—a marauding dark angel going around spreading as much chaos and misery as he possibly could. It certainly helps clarify Luke's drunken rape of Laura. That was a moment of his father coming through. It's funny. You and I have talked so many times over the years about Luke being gray—never black and white. But now it turns out his whole life is black and white. The women in distress you save and protect, the men who abuse them you eliminate. But what happens when the protector becomes the abuser? Keeping this horrible secret about his parents might have manifested itself in some other destructive way—cancer or a heart attack—but as it happened it was Luke's head that exploded. I'm really happy with the story and so hoping that I did it justice on the acting side. And I'm so honored they chose this way to celebrate the anniversary and take us back to the origins of the show.
What did you think of the hospital flashbacks to 1963? You knew John Beradino—the original Steve Hardy—so well.
I think Jason Thompson did a terrific job as Steve and got the essence of Beradino beautifully. It was the subtlest sort of impression. I don't know how Jason did it, but I was most impressed. Everyone delivered. Bill Ludel, who directed the episode, did a marvelous job and did it all without ever using split-screen. It was all done in the editing. And, Joey Luthman, the actor who played young Luke was incredible! Amazing control. Amazing professionalism. He's 18 and looks 15. I don't know how someone so young can give such a great performance. I told him, "When I was your age, I couldn't find my way out of the house."
Your load was also mighty impressive—playing Luke, Luke's father, and Luke's cousin, Bill Eckert.
It was a schizophrenic experience. The hardest part, oddly enough, was playing Luke, because he had to be a passive observer of the truth. It was great fun to play the father that Luke has talked about so disparagingly for 37 years. The Spencer siblings always said the mother died of a burst appendix, and that the father finished his bottle, walked out and was never seen again. It makes total sense Luke would have tried to kill him. But the mother? She was an angel to Luke and, though her death was an accident, he just couldn't live with it, so he had to construct an elaborate lie. I think that's pretty Wagnerian. And pretty damn Greek. I've always said about the daytime drama business, "I love the opera, hate the soap." And this, most certainly, is opera.
You've always pushed to take Luke to dark places. But did you ever imagine this?
No. Never. And I am so damn grateful! Elizabeth Korte, who wrote the script, and [head writer] Ron Carlivati, with his sweeping knowledge of the show, put it all together flawlessly in terms of motivation. They explained things about Luke that I'd never even considered. You know, Ava Gardner once said, "It was my f—king life and I'll remember it the way I want to remember it!" And that's what happened to Luke. He wrote his own history because the real history was just too much for him to face.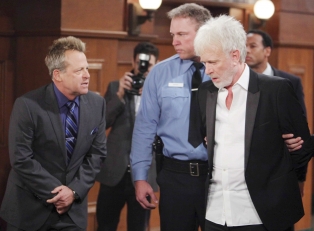 Wasn't it originally the plan that Fluke would turn out to be Bill Eckert?
Yes. That was the case when I was first told the story by Ron and [executive producer] Frank Valentini on the phone. They didn't quite know how it was going to work out. At first, I was definitely playing two different people, and the assumption was that Fluke was Bill Eckert. But I think when the fans started to guess that outcome—Ron monitors all of the comments so closely—they decided there was a better way to go. They did one more red herring—that period where maybe Fluke would be Faison or Jerry Jacks or the other Quartermaine guy—and it was pretty ridiculous with the masks and all. [Laughs] I know you and I love those masks! My whole career I've always looked at those moments as, "Okay, right now we're in comic book world and there's no point in trying to justify it. Let's just get through this f–king day and hope for something better tomorrow."
Then there was the sudden mention of the long-missing Spencer sister, Pat. Some folks, me included, thought Carlivati might be going for a transgender story—that Fluke was actually a very pissed-off Pat, post surgery.
That would have been interesting. I like that, too! [Laughs] We'll put that one on hold for another time.
So back to Fluke almost being Bill Eckert…
Well, I was away from the show for several months, after my back surgery, and I assumed that when I got back we'd pick up with the Bill Eckert [reveal], especially after they dug up his grave and it was empty. But, by then, they had decided on a different plan. When I was called to Frank's office, he told me that this other personality had been Luke all the time, and I cheered! Not only did I love the idea but it meant that people like Tracy weren't being stupid. I mean, wouldn't she have known if she'd gone to bed with someone other than Luke? That was always bothering me but Jane's just so amazing. She's, like, "All right, we're on the Titanic. I'm just going to play this the best I can and f–k the lifeboats!" And she did. She managed to keep her character smart through the dumbest of actions but, thanks to this reveal, Fluke being Luke totally justifies Tracy's behavior. It really fixes a lot of things in retrospect. I've been racking my brain and can't think of a single thing that this doesn't explain.
And now we know why Luke didn't have to go to the bathroom when he was held captive in the basement for weeks!
[Laughs] That had me worried, too. He was down there all that time with no water and no food. And the one time Fluke brought him a burger, he didn't eat it. [Laughs] Now it all makes sense. It was Norman Bates and Mother!
Did you actually do any medical research to play Luke's breakdown? Or did you just freeball it?
I didn't have time to research any of it. By the time I knew where the writers were headed, I was already in the deep end of the pool. I was just enjoying it too much to be worried about whether Luke was technically psychotic or schizophrenic, or whether he was having an identity crisis or just plain insane. I just went with my gut.
So where do we go from here? Does everyone cut Luke some slack and life goes on in Port Chuck?
That's the eternal problem in daytime with the stories that never end. You're always in Act Two, never hitting Act Three. I don't know where we go with this. We forgave Luke for killing his grandson because he felt so badly about it. I don't know that we can count on that kind of remorse working here. But, fortunately or unfortunately, it's not up to me. We'll just have to face it when it comes, and hope that they will continue to write his story as intelligently as they did with this chapter. I wouldn't be able to continue to play this guy without the scars. Luke will have to be in post-traumatic shutdown for quite a while. How do you ever come to grips with killing the mother you idolized? She was an angel. She was his reason for falling in love with Laura. He saw the softness of his mother in Laura, who was also an angel. You know, after Luke killed Frank Smith, I always felt that he would have taken over Frank's empire, if it hadn't been for Laura.
Any concerns that this Luke story can't be topped?
There is for me, absolutely. To have all these disparate pieces of my character come together in one script is pretty overwhelming. I feel like I've taken off all my clothes and have nothing left to shed. There's no going back. It will be an incredibly interesting challenge to go forward. There are so many ramifications here. In another couple of episodes, we find out why Luke went after Sonny Corinthos, for starters, and a lot of other truths will come spilling out now that Luke's mind has cracked open. I'll have my work cut out for me to balance all these balls in the air when I come back from this break. In the meantime, we will leave Luke going off to some kind of sanitarium for some kind of treatment. [Laughs] We can only hope that Heather Webber isn't the head nurse!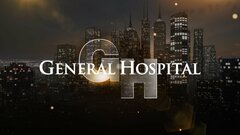 Powered by