Everything We Know So Far About 'Psych: The Movie'
We may currently be in the heat of summer, but what's even hotter than the weather right now are TV's surprise returns and reboots. Among other cult favorites making comebacks, fan-favorite Psych is gearing up for one last rodeo with its two-hour holiday special, Psych: The Movie, airing in December on USA Network.
The official logline for the movie reads: "The ambitious friends—along with some returning fan-favorite characters—come together during the holidays after a mystery assailant targets one of their own. A comedic thrill ride follows, as the wild and unpredictable Psych team pursues the bad guys, justice…and food!"
That mystery assailant is none other than Chuck star Zachary Levi. Levi will play the ruthless Thin White Duke. Series star Dulé Hill ("Gus") released this video on his Twitter, giving fans a first look at Levi's character:
Well, #Psych-Os #Chucksters…things just got reaaally interesting. Whaaaaaat!! 🍍🍍🍍@ZacharyLevi @JamesRoday @Psych_USA pic.twitter.com/rDUbylsuik

— Dulé Hill (@DuleHill) June 14, 2017
"He's formidable," leading man James Roday (Shawn) said of the character. "He's not like a thin, blow-away Psych Season 4, Episode 6 villain. He's not a villain of the week. He's got some depth and he's scary and you wouldn't want to mess with him in a dark alley."
Also joining the reunion is Hill's real-life fiancée, Jazmyn Simon, who will—appropriately—be playing Gus' love interest, Selene (pronounced "Say-la-nay"). The official Psych Twitter account released this video of Simon offering a small tease about her character:
SURPRISE! Gus is getting a love interest in Psych: The Movie! She will be played by none other than @DuleHill's IRL fiancé, @JazmynSimon! 🍍 pic.twitter.com/CuNauYbj61

— Psych 3: Is Here (@PsychPeacock) June 22, 2017
"Gus gets Gus'ed in this movie," Hill explained. "I think fans are going to enjoy seeing the tables get flipped. He's gonna think that this is the woman of his dreams or his worst nightmare. One or the other."
Also getting a new beau is Maggie Lawson's Juliet. Being Human's Sam Huntington will be the new man in the detective's life. Lawson described the new partnership to BuzzFeed as "playful" and says that there's "a lightness to it."
Fans will also be treated to some familiar faces. Guest star Ralph Macchio will be returning for the film. Macchio played two different roles during his time on the show, but this time, he'll be appearing as his first character from Season 5's "We'd Like to Thank the Academy," police academy officer Nick Conforth.
"He's actually a big catalyst to get our investigation going [into the Thin White Duke]. He holds one of the key pieces of information," series creator (and Psych: The Movie director and co-writer) Steve Franks told Entertainment Weekly. "He actually functioned perfectly within the framework of the story and that was kind of the key [to bringing his character back]."
Watch this video to see Macchio break the exciting news:
You know it's true now hear it from the man himself! @RalphMacchio will be making a PIVOTAL appearance in #PsychTheMovie this December! pic.twitter.com/01pwAqMN8S

— Psych_USA (@Psych_USA) June 29, 2017
Also returning is fan-favorite Jimmi Simpson as psychologist Mary Lightly who, as fans will remember, died all the way back in Season 4. "I believe he's now appeared on the show more post-death than he has than when he was actually alive, and we take great pride in that," Roday joked. "[The writers have] found a pretty clever way to give the people what they need and that's a little more Mary Lightly."
In other news, fans will finally get the chance to meet Chief Karen Vick's (Kirsten Nelson) mysterious, never-before-seen husband and daughter; despite suffering a minor stroke when filming started, Timothy Omundson's "Lassie" will be making an appearance in "one of the best scenes in the movie"; and Shawn's father, Henry (Corbin Bernsen), has adapted a new, hipster-inspired lifestyle.
"We'll see Henry has evolved a little bit in his retirement and changed," executive producer Chris Henze shared at San Diego Comic-Con. "He's become a hipster of sorts! He bought a retirement loft and the area gentrified and he didn't expect it to become a cool area, but it became cool and then he became a retro guy. He's leaned into that."
And when asked if those famous Hawaiian shirts of Henry's will be making a comeback, Henze said this: "He does not wear the Hawaiian shirts! He's got a little more scruff and a fedora. There's some coolness to him."
The two-hour holiday movie—which picks up three years after the series finale during the holiday season in San Francisco—was also co-written by Roday. The movie is being billed as a "holiday present" for all the show's loyal Psych-Os.
"Steve and James have taken the unique brand of comedy that the series honed over eight seasons and packed it into a two-hour movie that successfully rekindles one of the greatest bro-mances in television history," said Chris McCumber, president of entertainment networks for NBCUniversal Cable Entertainment, in a release.
Psych: The Movie, December 2017, USA Network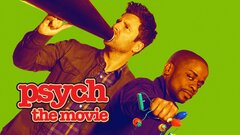 Powered by