Josh Charles Joins Masters of Sex Josh Charles joins Masters of Sex
The former Good Wife star, seen recently on Inside Amy Schumer, is ready to make a regular return to television. On Season 3 of the Showtime series, he'll play a businessman who enlists Masters and Johnson's expertise in his attempt to bottle the smell of sex.
E! cameras were filming when Bruce Jenner revealed to his family he's transgender
Ryan Seacrest previewed the two-part Keeping Up with the Kardashians special, telling Jimmy Kimmel: "It's Bruce basically talking to the family and telling the family what he's been going through and what he is going to go through for the first time." PLUS: Jenner will reportedly make $5 million from his E! docuseries.
E! orders Just Jillian starring Jillian Michaels, plus Joel McHale-produced The Comment Section
The Biggest Loser alum Michaels is getting her own reality show, while McHale's Comment Section will tackle the big pop-culture stories of the week from the perspective of social media and comment section reactions.
Why Amy Schumer decided to devote an entire episode to parodying 12 Angry Men
"I've always loved the movie," Schumer says of tonight's star-studded and very ambitious Inside Amy Schumer episode. She adds: "The idea of women's images being judged and deliberated on is not a new theme for the show, but it's not something that's changed much. It's an ever-constant theme for every female artist that I know. Just that word, 'deliberation,' what's the ultimate example of that? And it's a jury, and '12 Angry Men' is the quintessential jury movie. So I thought, 'What if I rewrote it, and we used incredible actors, and did a shot-for-shot recreation?'" PLUS: Inside Amy Schumer "has always had feminist streaks; now it's letting the roots grow out."
Introducing The Simpsons First-Impression Matrix
Columbia University researcher Heidi Grant Halvorson, who studies first impressions, has created a Simpsons-based matrix to explain her studies: "If you're high in warmth … and you're high in competence, you're like Lisa Simpson," she says. "Lisa's the one you want to be: She's smart and she's good, and you feel like she would be a really good friend and you trust her." PLUS: The Simpsons' longevity by the numbers.
Woman with no legs wins a treadmill on The Price is Right
The wheelchair-bound contestant won a sauna and a treadmill on a recent episode.
Letterman and his former writers tell an oral history of the jokes he never told
Among the participants is Carter Bays, co-creator of How I Met Your Mother, who met fellow co-creator Craig Thomas while writing for Dave. Says Bays: "I always wanted to do a piece called 'Don Rickles Goes to the Zoo,' which would have just been Don Rickles walking around the zoo hurling insults at animals. It felt like it had all the essential elements of an early-era "Late Show remote: shouting, an unhinged old guy, deadpan reaction shots, animals, and, best of all, deadpan reaction shots of animals." PLUS: Amy Schumer, Melissa McCarthy and other celebs recall their time on Letterman, and longtime Late Show writer Bill Scheft has been sharing a diary of the final days, including last night with Obama.
Lifetime orders female preacher docuseries Preach
Each epsiode of Preach will follow four Ohio "Prophetesses" as they deal with their respective flocks.
One Direction's remaining members to visit James Corden
In March, the boy band helped promote Corden's Late Late Show launch. Next Thursday, Liam Payne, Harry Styles, Louis Tomlinson and Niall Horan will actually visit the CBS late-night show.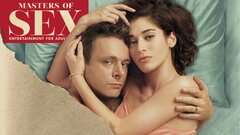 Powered by