Fox Upfront: Empire Rules the Stage, Rob Lowe Charms
When you're a network that has come through a season fairly battered, and you're Fox, what you want advertisers to think of first when they hear your name is Empire. There's no denying the pop culture vortex that is the hip-hop soap, whose second season will be split into two nine-episode segments. And at the network's annual dog-and-pony show at the Beacon Theater in New York, Dana Walden and Gary Newman, co-chairs of Fox Entertainment Group, did their best to make that happen, eschewing ratings talk for all shows except Empire (which was biggest thing on TV in just about all the demographics advertisers care about) as a nod to the fact that, aside from Empire and Gotham, this was a terrible, horrible, no good, very bad season, numbers-wise.
The network is leaning hard on established names like Ryan Murphy (horror-comedy Scream Queens), John Stamos (Grandfathered), and Rob Lowe (The Grinder) to pull itself back up. And judging by the audience's reactions, there are far worse strategies.
One X-File to Rule Them All; Everybody Loves Stamos
It's easier to get a reaction from a crowd with a comedy than a drama. Even so, the disparity between audience enthusiasm for the comedies and dramas was stark. Like, "Winter is coming" stark. Lucifer, Rosewood, and The Frankenstein Code debuted their clips to perfunctory applause, with one attendee giving Rosewood a "Yikes" after the presentation; Minority Report fared better, but enthusiasm was in strangely short supply.
It wasn't all bad for Fox on the drama side: Without even a frame of new footage to show, The X-Files slayed, just by having Gillian Anderson, David Duchovny, and Chris Carter step onto the stage.
And the comedies slayed, for the most part. The Grinder (Rob Lowe's), which Walden called the funniest script she's ever read, and Grandfathered (John Stamos') nearly brought the house down at various points. Interestingly, while this was largely the same crowd that guffawed at Dads two years ago, 20-somethings-growing-up comedy Guide to Surviving Life drew a much more muted response.
Rob Lowe Can Make Anything Interesting
You know those awful DirecTV commercials with Rob Lowe? Fox had Lowe do a similar video bit to talk to the AdBros about "viewability," and jargon aside, it was actually a great reminder of how the actor's charm can carry just about anything: "I'm the star and creator of Empire, which is based on my life."
Andy Samberg will be hosting the Emmys this year, since they're airing on Fox, and he got to flex his solo hosting muscles with a mini-set of sorts:
About Scream Queens, about a serial killer on a college campus: "Originally just titled Porn, which is also catchy."
On Bones: "This season is about the tibia."
On The X-Files: "Duchovny and Anderson are still lookin' super hot. You don't see them bringing back Party of Five. More like Party of Five People I Don't Want to Eff."
An expertly tossed-off line about the sudden, successful blossoming of diversity on television: "Now that the networks have learned this lesson, this will never be a problem again."
Oh, and he set some new Emmy rules: The ceremony will last for no longer than 47 hours (46 of which are ads), new categories like "Best Lead in a Brooklyn Nine-Nine" ("Which Jim Parsons will win"), and he has to live-tweet the In Memoriam segment with inappropriate emoji (like that ghost with its tongue sticking out). But really, he's very excited to host: "I'm even more excited for the day after I host, when I get to read all the nice things people online have written about me."
Empire Brings Down the House
Just about the only thing Fox had to do to make this a successful presentation was include a performance from the Empire cast. Hell, even just a song from one of them would have sufficed. But instead, the assembled moneybags witnessed the entire cast blow the damn roof off the Beacon, opening with "No Apologies," segueing into Jennifer Hudson number "Whatever Makes You Happy" (yes, with actual Jennifer Hudson), and closing with all the Lyons crushing "You're So Beautiful."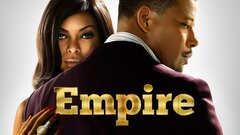 Empire
where to stream
Powered by