First Look: Rob Lowe and Sons Explore the Unknown in A&E's 'The Lowe Files' (VIDEO)
Join in on the family love for strange phenomena, unexplained legends, and the supernatural in Rob Lowe's new nonfiction series The Lowe Files, premiering Wednesday, Aug. 2, on A&E.
Over the course of nine episodes, Lowe and his two sons, Matthew and John Owen, embark on a "bonding family adventure" as they travel the country to investigate unsolved legends and age-old stories across the country—a curiosity Lowe has had since his early childhood days and has now been passed down to his boys. The trio plans to find out if ghosts exist, whether or not Bigfoot is real and more, while making lasting memories along the way.
In the hour-long premiere episode, the father and sons visit Preston Castle, a condemned former boys' reformatory built in the late 1800s in Ione, Calif. The reformatory is said to house angry, vengeful spirits, which prompts the boys to contact the spirit of a murder victim who still lurks around the castle.
Check out the official first look at The Lowe Files here:
The Lowe Files, Premieres Wednesday, Aug. 2, 10/9c, A&E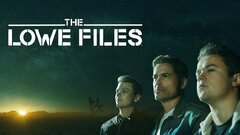 Powered by