A&E Renews Leah Remini's Scientology Docuseries for Season 2
Leah Remini: Scientology and the Aftermath has been renewed for another installment, A&E Network announced Wednesday. The new season of the acclaimed and groundbreaking docuseries will feature 10 new hourlong episodes.
Remini's series, which premiered last fall, has been part of a recent cracking of the Church of Scientology's infamously guarded and close-lipped facade, coming in the wake of Alex Gibney's explosive 2015 documentary Going Clear. As a former member herself, Remini—who left in 2013 after 34 years in the church—is in a unique position to not only open up about her own experiences, but to help other former members do the same. In the show, the actress and other former Scientologists, including some who were high-level executives in the organization, help shed the light on often shocking stories of the church's practices. The Church of Scientology has been critical of Remini and the series, but that has clearly not dissuaded her or A&E from continuing.
"The critical and ratings success of this show speaks to television viewers' increasing thirst for authentic and distinctive storytelling," said Elaine Frontain Bryant, executive vice president and head of programming for A&E Network. "Through Leah's passion and perseverance she has boldly empowered so many people to step forward and we're eager to share more of those compelling stories with a new season."
See Also
The unscripted true-crime show was one of A&E's highest-rated series and received two Emmy nominations during its original 1999-2006 run.
According to Remini, "It became clear to us that although we were telling painful stories of former members of the Church of Scientology, this show was resonating strongly with people everywhere. The show is really about standing up for what is right and not letting bullies have their way. I feel it is important for people to know that you can take action to bring about change, both for yourself and for others.
"Our intention is to send a clear message to abusers that they will not go unchecked and will not be permitted to continue harming people without being questioned and challenged. We have been deluged with messages from those who have stories to tell who feel the show is a forum where their voices can be heard. We have been overwhelmed with support from well-wishers and fans of the show from around the world. But most importantly we felt compelled to proceed with another season to continue to reveal truths and seek justice for all victims."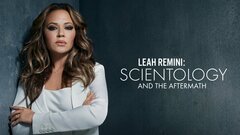 Powered by