What's On: The Return of 'Younger,' 'Broadchurch,' 'Big Brother' and a 'Lip Sync Battle' Between 'Orange' Divas
Younger (10/9c, TV Land): "Truth is a four-letter word," purrs a slinky spin doctor (the always welcome guest star Kristin Chenoweth) with an eye for the handsome boss Charles (Peter Hermann). And while she might be joking—though Charles is less than amused—the truth isn't likely to set Liza (Sutton Foster) free as the fourth season of this spirited high-concept comedy gets underway. Having finally told her work BFF Kelsey (Hilary Duff) that she's just been pretending at the whole millennial thing, and that she's actually 40something, the fallout promises to be epic, especially when Kelsey starts commiserating with Liza's boyfriend Josh (Nico Tortorella), who was able to forgive the lie about her age, but not so much her kiss with Charles. What a tangled web Liza continues to weave, but as played by the irrepressible Broadway star Foster, we figure it's hard to hold a grudge forever. Grow up, everyone!
Broadchurch (9/8c, BBC America): The third and final season of the exceptional British crime drama goes out on an emotionally wrenching high, with combative detectives Alec Hardy (David Tennant) and Ellie Miller (Olivia Colman) investigating another case with ramifications likely to shake the seaside town to its core—much like the Danny Latimer murder five years earlier. Jumping forward three years from Season 2, the detectives tread carefully into a psychosexual minefield when Trish (the elfin Julie Hesmondhalgh), a 49-year-old shopworker, is violently sexually assaulted during a birthday celebration on the lush grounds of a country estate. The shell-shocked victim isn't much help, and the list of suspects is legion. Over the next eight weeks, Broadchurch again stes a high bar for the British mystery series. It will be missed.
Big Brother (8/7c, CBS): Billing this season as the "Summer of Temptation," the annual guilty pleasure welcomes a new set of exhibitionistic houseguests who from the very first night will encounter the lures of money, power and safety—and that's even before they're introduced to the "Den of Temptation" in Sunday's episode. (The regular schedule is Sunday and Wednesday at 8/7c, and starting July 6, a live eviction show Thursdays at 9/8c.)
Inside Thursday TV: Comedy Central presents a fresh take on contemporary urban culture in Hood Adjacent With James Davis (9/8c), in which the comedian offers his outlook on life from having been raised in the "neutral zone" of South Central L.A. … I've seen both of these Orange Is the New Black divas on Broadway: Danielle Brooks in the revival of The Color Purple, Uzo Abuda in the latest Godspell revival. They face off in what sounds like the most ferocious Lip Sync Battle (10/9c, Spike) in ages. Brooks' set includes "Living on a Prayer," and Abuda will counter with "B.O.B." A second episode follows, featuring Jermaine Fowler and Ashley Graham. … The Australian thriller Cleverman returns for a second season (10/9c, SundanceTV), with the title Aboriginal visionary, Koen (Hunter Page-Lochard), taking on his half-brother Waruu (Rob Collins) and the government in hopes of bringing the modern and ancient cultures together.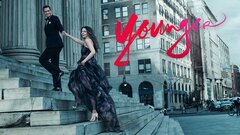 Younger
where to stream
Powered by