Goodbye to Rosewood: 'Pretty Little Liars' Creator I. Marlene King and the Cast Preview the Series Finale (VIDEO)
We've come a long way since Pretty Little Liars' Aria Montgomery (Lucy Hale), Emily Fields (Shay Mitchell), Spencer Hastings (Troian Bellisario) and Hanna Marin (Ashley Benson) woke up in that barn to find their nasty bestie Alison DiLaurenis (Sasha Pieterse) had gone missing.
Since then, there have been Hitchcock nods, alternating Jasons, killers and killer clothes, Halloween specials, decapitations, blindings, betrayals, twins, time jumps, hookups, putdowns, multiple Mona personalities and more text messages than any data plan could feasibly withstand. And that's not even touching on the various ships that have taken shape over the last seven seasons. EMaya! Emison! Haleb! Spoby! Ezria! Noelmian! (That's just my fanfic pitch, obvs.)
But on Tuesday, it all ends in a two-hour series finale lovingly crafted by the woman who has overseen every "A" twist and "A.D." machination—showrunner I. Marlene King.
"The finale is literally its own giant two-hour movie," says King, who wrote and directed the episode, "Til DeAth Do Us PArt," which leaps ahead a bit following last week's reveal that Mona (Janel Parrish) had killed Charlotte (Vanessa Ray) and A.D.'s exit from town.
"The game is over, A.D. has left town," says King, adding that this final time jump gives the girls some distance from their latest crisis. "We wanted to start the finale in a place that you will understand once you see it…the girls needed to take a breath so they could launch this final story."
Designed to have "its own beginning, middle and end," King explains that the episode "revolves around an event that is so big that it's difficult for A.D. to miss" and that, along with the return of our initialed evildoer, the finale will clear up once and for all the paternity of Em and Ali's baby.
In addition, we can expect resolutions galore. "There will be absolute closure" before our girls ultimately unmask their unseen tormentor and head into the sunset, she promises. Not that getting them to what will hopefully be a a happily ever after was a happy experience for King.
"Writing [the finale] was very difficult to begin, but then it flowed pretty quickly once I started," she admits. "Except for one scene which I held off on for as long as humanly possible…it's a scene where the PLLs are saying goodbye to one character and it shouldn't be that big of a deal, but because we knew it was the last time we're going to see all of these girls together, it turned into a very big deal."
Much like the show has over the years. Since its premiere, not only has PLL consistently ranked as the most social series with like a gazillion tweets per episode, it has also engaged fans with a legacy of inclusivity and connection that King is most proud of.
"I hope that PLL lives on in our fan family for generations," she states. "I already hear stories about mothers sharing the show with their daughters, so hopefully it becomes a generational thing. I hope the international family stays together…these people came together over their love and passion for something we were so proud of making and I just hope that the friendships people have made worldwide will remain. Because I think that is so special, we brought a lot of people together."
As for what the cast thinks? Well, check out this exclusive clip to see their very specific ideas of what they would like to take away from their Rosewood experiences and check back here on Wednesday for a chat with whomever is exposed as "A.D." during Tuesday's finale!
Pretty Little Liars Series Finale, Tuesday, June 27, 8/7c, Freeform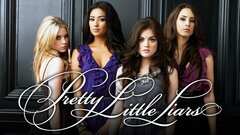 Powered by