Kristin Chenoweth and Alan Cumming will Host the Tonys Kristin Chenoweth and Alan Cumming will host the Tonys
Both have won Tonys in the past, and Chenoweth is up for a Tony this year.
Why The Wire doesn't explain the Baltimore riots
The media keep mentioning the Baltimore-set HBO series in their riot coverage. But as one Twitter user put it, "Welcome to #Baltimore, national media. The Wire came out in 2002. Nice of you to show up."
John Stamos doesn't think much of Lifetime's Unauthorized Full House movie
Stamos tweeted: "Full House TV movie on @lifetimetv ?? – hmmmm -yeah right, good luck with that."
CBS announces The Briefcase summer reality show
From The Biggest Loser creator comes a reality show that will give a family in need a briefcase with $101,000, with the option of giving it to another family in need. What they don't know is that the other family in need will get a similar briefcase.
Late-night hosts joke about Bruce Jenner's revelation … that he's a Republican
Larry Wilmore devoted his entire Nightly Show to Jenner's transition, while Jon Stewart, Seth Meyers and David Letterman ignored it entirely. PLUS: James Corden opened his show with a touching speech about Jenner.
David Krumholtz will play a 76-year-old widow on IFC comedy Gigi's Bucket List
The former Numbers star will dress in drag for the comedy about a newly widowed "yenta" who discovers her husband had a secret bank account. "This character has been living inside me since birth," says Krumholtz. "Friends have often accused me of acting like a grandma."
Report: Ben Affleck's slave-owning ancestor didn't likely own slaves
The Daily Beast looked at old tax records and found that the ancestor discovered by PBS' Finding Your Roots, Benjamin L. Cole, was actually not a slave-owner, but he may have been the executor of estates that did.
VH1 renews Barely Famous
Erin and Sara Foster's "docu-comedy" will return for a 2nd season.
Grey's Anatomy adds a Mentalist alum
Joe Adler is expected to play an intern in the season's final two episodes.
Jimmy Kimmel uncovers footage of Kevin Spacey's 1979 audition for Tiger Beat
Cameras captured the future House of Cards star between high school and Julliard. PLUS: Season 4 of House of Cards will ask: Can Frank function without Claire?
Happy 65th birthday, Jay Leno!
The former Tonight Show is still busy working even at retirement age.
Former Baywatch star Jeremy Jackson arrested for allegedly stabbing a man
Jackson, who was ejected from UK's Celebrity Big Brother in January for attempting to grope another housemate, was also arrested over the weekend for breaking into an Airbnb.
Partridge Family daughter Suzanne Crough dies
Crough, 52, played tambourine-shaking daughter Tracy Partridge on the '70s series.
Former ET correspondent Paul Ryan dies
The 69-year-old Ryan also had bit parts on numerous TV shows.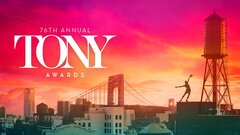 Powered by