'My Favorite Wedding' Star Maggie Lawson Shares Her Adventures in Bridesmaid-ing
In Hallmark Channel's original rom-com movie My Favorite Wedding, Maggie Lawson stars as Tess Harper, a bright and resourceful doctor who is the epitome of grace under pressure. So when the wedding planner walks out on her BFF's four-day wedding extravaganza, Tess and the groom's best man (When Calls the Heart's Paul Greene) take over the last-minute preparations and save the pending nuptials from the disasters that lurk at seemingly every turn.
"She actually has to use her skill as a doctor at one point to help with a real medical emergency… at least she thinks it's a real medical emergency," Lawson says winkingly. "She also has to perform surgery on a cake topper! That's new for her. When things go wrong, she jumps into gear and navigates everything with ease. Or at least she makes it look that way."
And since this is a romantic comedy, we can bet that the bride and groom aren't the only lovebirds in this film; expect a spark to develop between the dynamic wedding-saving duo.
My Favorite Wedding will air as part of Hallmark Channel's "June Weddings" celebration, and since Lawson stars as a woman who could easily win the title of "World's Greatest Bridesmaid," we asked the former Psych star about her own bridesmaid experiences.
Maggie Lawson's Adventures in Bridesmaid-ing
1) If you were in Tess' shoes, how would you react to the chaos around you?
Tears. Lots of tears!
2) How many times have you served as a bridesmaid?
I think 4!
3) Where do you excel as a bridesmaid?
I am usually the first (and last) on the dance floor. 😃 I am not great, so I think people feel comfortable dancing near me because I will make them look really good.
4) What is one of the funniest things that has happened to you when you were a bridesmaid?
Well, I was thrown into being a maid of honor once because the MOH missed her flight! That was super crazy…
5) Getting married is very stressful: What's your advice to a bride when things go wrong?
Drink more? Dance it off? Seriously tho—I would probably say, focus on your person and what the two of you have. The wedding is exciting but it's just one day. The marriage is what matters…
My Favorite Wedding, Saturday, June 24 at 9/8c, Hallmark Channel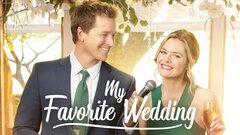 Powered by