Josie Bissett Says Hallmark's 'Wedding March 2' Has Her Excited for Her Own Upcoming Wedding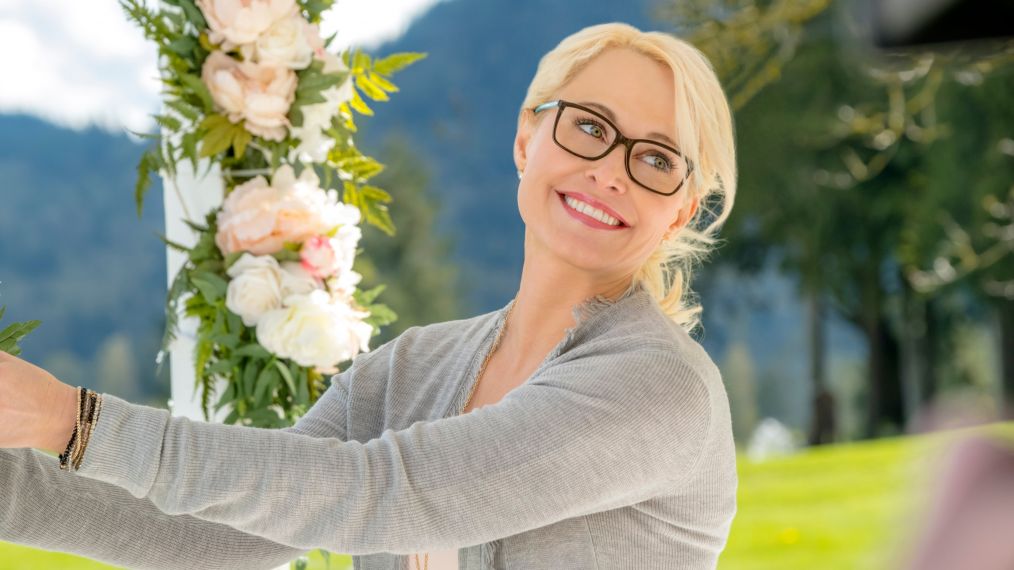 Josie Bissett and her former Melrose Place costar Jack Wagner star in Saturday's Hallmark Channel rom-com Wedding March 2: Resorting to Love. In the follow-up to last year's The Wedding March, Bissett and Wagner reprise their roles as former college flames who discover there's still a spark between them. In the new film, Olivia (Bissett) takes a leap of faith and moves from New York to Mick's (Wagner) rustic lodge. Bissett shares with us that, "She's kind of going in wanting to be a business partner, and Mick's thinking she's coming to basically be his girlfriend."
And when TVInsider caught up with the actress to chat about the sweet film, she revealed that working around weddings has her excited for her own upcoming nuptials. She is set to wed hunky British businessman, Tom Doig, in Washington state on July 4, and shares that being on-set got her into wedding mode.
"I've been learning a lot about weddings even though it's my second one," she says, noting that "I was married so young." Bissett was married to fellow Melrose Place actor Rob Estes from 1992-2006, and they have two children.
Bissett also reveals her favorite part of a wedding ceremony. "My favorite moment, hands down, is when the bride comes out and it's the first time people see her and she walks down the aisle." Bissett sighs. "I always cry."
Being focused on work and weddings—both real and on TV—has helped Bissett recover from a near-tragedy. "I don't know if you knew that I had a house fire two years ago," Bissett says, recalling the June 2015 blaze that destroyed her Seattle home. "Pretty much my daughter and I have been bouncing around to different temporary houses until my house was restored, and it's just been quite a nightmare, actually. While I was filming—just this last couple weeks—we were able to move back in.
"And, just, with so much going on, and then the wedding on top of it, the movie really got me excited, I guess. It put me in the mood for planning a wedding!"
When asked what she may poach from the The Wedding March franchise for her own big day, Bissett muses, "The film has all sorts of great touches: Putting lights on the lake and the couple that was getting married in the show wanted a couple's logo, which I thought was cute. Napkins with the logo and stickers and stuff like that. Oh, and then just, you know, her dress! Just all sorts of things."
Bissett reveals that she wasn't the only actor getting wedding ideas while filming Wedding March 2. "The other great thing is the actress who was playing the bride is also getting married in, I think, June! So we had lots to chat about," Bissett shares. (Congrats to actress Tara Wilson on her wedding!)
When asked about working together with her long-time friend, Jack Wagner, Bissett reveals that she was thrilled when The Wedding March was expanded. "Oh my gosh, I was so excited!" she exclaims. "I've never been part of something like this where a TV movie turns into sequels, and Jack just believed in it so much and he single-handedly has made these next two movies happen."
But it's not surprising that folks would want to hear more from The Wedding March: Bissett and Wagner have great onscreen chemistry. "I've just never experienced anything with another actor where we just enjoy the process so much together," admits Bissett, "But we both have pretty lighthearted personalities so we get along. We have so much fun but also love the work. We love these characters. It's going to make any other movie I do probably just a little bit boring because we really just entertain ourselves. We're funny together. I don't know if other people think we're funny, but we definitely make each other laugh!"
Bissett reveals a moment in the upcoming film that had her in stitches (and a member of the cast almost in literal stitches!). "We were shooting this scene where we're supposed to be skipping rocks while we're doing the dialogue," she explains. "Jack's really good at it, and I'm not. We also had to just mime it so they didn't hear the sound of the rocks in the water. The director's like, 'Okay, you guys. I really want you to do it this time.' So I did it and threw the rock, and it didn't even make it into the water, but nearly hit the sound man in the head! It was one of those moments where I couldn't stop laughing."
The actress adds, "And what, too, makes this film so much fun is the lightheartedness of the script. I was thinking the other day [that] this doesn't even feel like work. I can't believe I'm getting paid for this!"
This won't be the last time we see Josie and Jack onscreen together. In addition to appearing together on Hallmark's period drama When Calls the Heart, Bissett reveals that Wedding March 3 will premiere on the Hallmark Channel in time for Valentine's Day 2018.
Wedding March 2: Resorting to Love, Saturday, June 17 at 9/8c, Hallmark Channel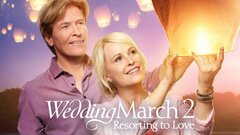 Powered by