Wimbledon Holds Serve, the FIFA Final and Major League Baseball Mark Early July Sports Highlights
It's advantage England on the midsummer sports calendar:
Wimbledon Tennis (Early rounds begin July 3, 7am/6c, ESPN)
The most prestigious tournament in tennis's Grand Slam returns to the All England Lawn Tennis & Croquet Club. On the women's side, Angelique Kerber, Simona Halep and Karolina Pliskova are among the favorites. Seven-time Wimbledon singles champion Serena Williams is expecting her first child and won't defend her title. For the gentlemen, reigning singles champion Andy Murray will play for his third win on home soil. His stiffest competition includes Stan Wawrinka, Novak Djokovic, 2017 Australian Open champion Roger Federer and this year's French Open winner, Rafael Nadal. ESPN and ESPN2 air the tournament through July 16.
Tour de France (July 1, 9am/8c, NBCSN)
Cycling's premier event has its Grand Départ in Düsseldorf, Germany. NBCSN and NBC cover the race through July 23.
NASCAR Coke Zero 400 (July 1, 7:30/6:30c, NBC)
Monster Energy NASCAR Cup stars return to famed Daytona International Speedway for a race under the lights. This is the final Daytona race for Dale Earnhardt Jr., who will retire at the season's end.
FIFA Confederations Cup Final (July 2, 2/1c, Fox Sports 1)
The eight-team soccer tournament comes to a close with the final match from St. Petersburg, Russia.
Nathan's Famous Hot Dog Eating Contest (July 4, noon/11am c, ESPN2)
We'll save for another day the debate on the merits of competitive eating as a sport. Joey Chestnut looks to win the annual contest for the 10th time.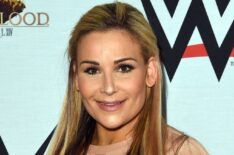 See Also
Ahead of Mondey in the Bank, WWE superstar Nattie talks about what it means to compete in the first women's ladder match, the ever changing landscape of women in professional wrestling, and if we will ever see another 'Total Divas' spinoff.
CONCACAF Gold Cup: USA vs. Panama (July 8, 4:30/3:30c, Fox)
The U.S. Men's National Soccer Team has its first Gold Cup group match against Panama at Nashville's Nissan Stadium.
F1 Austrian Grand Prix (July 9, 8am/7c, CNBC)
Formula One heads to Spielberg, Austria, for a 71-lap race around the 10-turn Red Bull Ring.
IndyCar Iowa Corn 300 (July 9, 5/4c, NBCSN)
The .875-mile tri-oval at Iowa Speedway is mentally and physically taxing for Verizon IndyCar Series drivers.
MLB: Detroit at Cleveland (July 9, 8/7c, ESPN)
Sunday Night Baseball features a matchup of AL Central rivals when the Detroit Tigers visit the Cleveland Indians.