'Conan' will devote one night of Comic-Con to the casts of 'Game of Thrones' and 'The Walking Dead' The July 10 special edition of Conan will feature nine Game of Thrones stars, including Sophie Turner and Maisie Williams. Plus four stars of The Walking Dead, including Norman Reedus, Lauren Cohan, Stephen Yuen and Danai Gurira. The night before, Conan will welcome the cast of The Hunger Games: Mockingjay Part 2.
Donald Trump's "derogatory statements" about Mexicans immigrants have prompted NBC to cut all ties with the billionaire. UPDATE: Trump responds: "NBC is weak, and like everybody else is trying to be politically correct— that is why our country is in serious trouble…they will stand behind lying Brian Williams, but won't stand behind people that tell it like it is, as unpleasant as that may be."
Watch as Kelly and Michael try to talk over the fire alarm that kicked off today's show.
She also tells E! that in order to join the ABC reality show, producers will have to overhaul the casting process.
Cuban Chrome, focusing on Cuba's fascination with American vintage cars, debuts on July 13.
William March's novel about a murdering sociopath daughter, which became a movie in 1956 and a TV movie in 1985, is being adapted as a Lifetime film.
The options to bring back actors such as Matt Dillon, Carla Gugino and Melissa Leo expired a long time ago.
All photos are gone now that Williams is no longer working at NBC News.
European broadcasters like the BBC have lost their Olympic rights, unless they sub-license some of the rights from Discovery.
Britton and Ellen DeGeneres recalled that one of her first TV roles was on Ellen.
Boston EMS will follow first responders from Boston Emergency Services, while Save My Life: Boston Trauma will take viewers inside an emergency room.
In Tig, the standup comic takes us inside her battle with breast cancer.
Watch Colbert do 20 push-ups "for the troops."
The Brooklyn Cyclones recently had its first-ever Saved by the Bell night, featuring a cameo from Mr. Belding.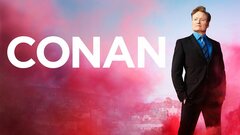 Conan
where to stream