'Cuban Chrome', the First U.S. Show Taped in Cuba, Gets an Airdate
Cuban Chrome, the first American TV series to be completely filmed in Cuba since the U.S. embargo began in 1962, now has an airdate. The show will premiere Monday, July 13, at 10/9c on Discovery Channel.
As TVInsider.com wrote last March, Cuban Chrome explore the island nation's unique car culture and the people who keep its classic cars running–specifically, members of the A Lo Cubano Car Club.
Vehicles from the United States haven't been imported to Cuba since the embargo began, which means its vintage American cars are frozen in time.
Executive producer Craig Piligian told us earlier this year that Cuban Chrome was in the works long before President Obama announced in December that certain restrictions on travel and commerce with Cuba would be lifted.
"The first time they didn't approve us," he says of the United States' Office of Foreign Assets Control (OFAC), the Treasury Department division that administers and enforces economic and trade sanctions. "Then we had to go back and ask more politely. Everything was done very government-friendly. Everyone knew what we were doing and why we were doing it, and who we were doing it for."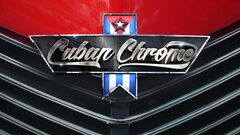 Powered by