What Did the Critics Originally Think of 'Seinfeld?'
These days, Seinfeld is widely regarded as one of the greatest TV series of all time. Boatloads of fans no doubt then are reliving that glory by streaming "the show about nothing" in full on Hulu, which made the show available this week. But back in the summer of 1990, when the show debuted on NBC, not everyone was singing its praises. In fact, TV Guide Magazine didn't even bother to review it (instead including just a two-sentence summary in a package of previews about 21 new shows.) These publications did, but they weren't exactly thrilled.
USA Today
TV Insider's own Matt Roush slammed the show in 1990 for USA Today, comparing Jerry to a condiment. "Lacking much in the way of attitude, the show seems obsolete and irrelevant," he wrote. "What it boils down to is that Seinfeld, likable as he may be, is a mayonnaise clown in a world that requires a little horseradish."
The Hollywood Reporter
The trade didn't care much for the sitcom, predicting a swift end: "Seinfeld, which had a trial one-shot last year as The Seinfeld Chronicles, is slated to run for three more weeks on NBC. That should be enough."
Entertainment Weekly
Ken Tucker gave the show's debut a B+ in a mixed review, calling out Kramer in particular. "The weakest aspect of Seinfeld is a wacky next-door neighbor played by Michael Richards," Tucker wrote. "Richards is doing little more than an impersonation of Christopher Lloyd's Jim on Taxi, and he ought to cut it out."
The Washington Post
Tom Shales seemed to adore Seinfeld's original episodes. He wrote that "this Jerry Seinfeld is a very funny fellow… A screamingly, shriekingly, bone-crunchingly, head-achingly, stomach-churningly funny fellow." But then he undercut that praise: "All right, maybe not quite that funny. But Jerry Seinfeld is Just Funny Enough."
The New York Times
The Gray Lady's John J. O'Connor was cautiously in favor of the show in his June 1990 review. He opened by referring to Jerry as "another comedian attempting to transform the essence of his stand-up act into a weekly television series" and stating that Jerry looked like "he might have a decent career as a stockbroker except for a compulsion to tell jokes." But ultimately he concluded that, "Despite a certain inertia in the character of sitcom Jerry, Seinfeld is an affably amusing show, thanks in large part to the shrewd observations of stand-up Jerry."
Time
The weekly news magazine's critic Richard Zoglin didn't pay any attention to the show until 1992, but once he got around to it, he declared Jerry Seinfeld's comedy "the centerpiece of NBC's hottest sitcom."
Want more? Read other original review highlights from the likes of the Los Angeles Times, Newsday and the Chicago Tribune at the show's Metacritic page.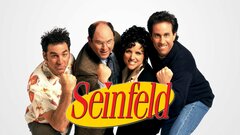 Powered by