Walking Dead's Emily Kinney Goes From Good Girl to Big Bad as The Flash's Latest Villain
Former The Walking Dead regular Emily Kinney returns to the small screen tonight (April 14). But instead of sweet, let's-sing-when-we're-sad Beth Greene, she'll be playing the Bug Eyed Bandit, a.k.a. Brie Larvan, on The Flash, in a special crossover episode with Arrow. "I just found it fun to play a villain and an evil character. I've never played anything like that before," Kinney says of her new role.
In the comics, the Bug Eyed Bandit is male Bertram Larvan, who controls insects; Kinney's Brie, however, will be much more scientific in her means of destruction. The former walker-slayer chatted about playing the bad guy, Brie's motivations, and what she binge-watches on her downtime.
Beth was intense at times, but she was never cruel or mean. How was it transitioning to a villain like Brie Larvan?
Even as [Beth] got tough and strong, and became such a fighter by the end, she still had such a good, sweet heart. And Brie, of course, is very different. She's out for revenge and she's very smart, and sharp, and sleek. She isolates herself in a certain way and can't really see anything else. She's very focused and confident. I thought it was just kind of fun to tap into that side of myself.
Who's her beef with?
It's with the company that let her go. She was developing these mechanical bees for agricultural purposes, but then she started to develop them as something that could be used as weapons. The company didn't want that, so they let her go, and she felt like her whole career was stalled and taken from her. [Now] she's using those skills to take out the people in this company. And to just like, generally cause issues [Laughs].
Is she a meta-human like most of The Flash's villains?
No, I don't believe so, actually. She's just incredibly smart. She's a computer genius, basically.
With this being a crossover episode, how was it working with the combo-ensemble cast?
It was really fun! [But] because Brie is controlling a lot of this from her beehive, her little isolated, cave-type thing, I didn't actually get to interact a ton with the other characters. A lot of it was me talking to my bees and things like that. But in a way it works for the character, because she's supposed to be this isolated, crazy computer person.
Is it weird to not be running around outside covered in dirt?
You know, Brie is very sexy. Her costume is very cool. I'm wearing heels, and I have these cool glasses, and to take all that time to do hair and makeup every day was such a different experience. It definitely helps me to get into character, but it is different. You're more conscious of looking more put together. With The Walking Dead it was, the less put together you look the better. I would just go all day without looking in the mirror.
What was your favorite thing about playing Brie Larvan?
The whole experience was just really, really fun. But probably the costume is the best thing. I think costumes really make the character. It really influenced how I decided to play it. They sent me the sketches when they were working on it and I feel like that immediately informed like how I wanted to play it.
So between acting and your music career [Kinney starts a country-wide tour next month, with her second album to be released later in 2015,] are you binging any TV on your downtime?
I was getting into How to Get Away With Murder because everything ends on a cliffhanger. They leave you with such cliffhangers that you have to see if you've figured out the next clue, you know? I also really want to see that documentary The Jinx on HBO. That's my next thing.
The Flash, Tuesdays, 8/7c, The CW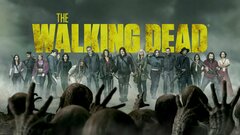 Powered by