True Crime Pays: TV Takes on Real-Life Murders Have Audiences Fascinated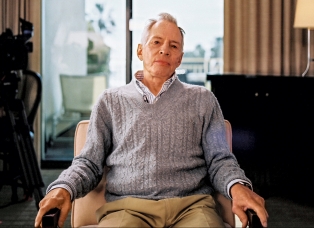 Reality shows, newsmagazines, and documentaries about homicides have been proliferating on TV for years. But two recent innovative programs that go beyond the one-hour case-study approach have sent shock waves through the true-crime genre–and they're shaking up what you'll see in the months ahead.
HBO's six-part documentary The Jinx reached a crescendo in mid-March with the presentation of new evidence tying 72-year-old real estate scion Robert Durst to the unsolved 2000 murder of his friend Susan Berman; it also strongly suggested Durst's culpability in the disappearance of his wife in 1982. In the final Jinx episode, Durst seemed to confess, muttering into a live microphone, "What the hell did I do? Killed them all, of course." And last fall, NPR served as the launchpad for Serial, a 12-part podcast that reexamined the possibly wrongful conviction of Adnan Syed for murdering his ex-girlfriend when he was 17. He's been in prison ever since.
Presented in highly addictive segments full of buildups and revelations, both series attracted big audiences. Serial podcasts have been downloaded 76 million times from iTunes–roughly 6 million listeners per episode. The Jinx, available on HBOGo.com, has pulled in up to 4 million viewers per installment so far and even more for the finale. (It didn't hurt that dramatic twists played out in the news: Durst was arrested for Berman's murder on March 14, the day before the Jinx finale, and Syed won a case-review hearing that could get him a new trial. Even 48 Hours capitalized on the public's interest, airing an exclusive interview with Durst's lawyer, Dick DeGuerin, on March 21.)
Other true-crime professionals can't get enough of these investigative programs. "Our crew has been obsessed with Serial," says Kelly Siegler, a former prosecutor who now works on air on TNT's Cold Justice, helping to reopen unsolved small-town murder cases. The series, produced by Law & Order's Dick Wolf and Magical Elves, returns with new episodes on April 10; a spinoff with different personnel, Cold Justice: Sex Crimes, begins this summer. "My daughter, who's 21, would tell me all her friends were listening to [Serial]. I'm just going, 'Wow–this thing is really catching like wildfire.'" Of The Jinx, Siegler says, "It's almost like a comedy. Robert Durst knows he's been a suspect in these cases, and he's talking to everybody. If you were his lawyers, you'd be screaming at him, 'What the hell are you thinking, fool?' I don't think you're going to have too many other high-profile suspects dumb enough to talk and act the way Durst has been acting."
Maybe not, but the people who commission true-crime shows are busy scrambling to capitalize on the genre's ascension. TVOne, which competes with BET by targeting African-American audiences, already has a show called Fatal Attraction. In late summer, the network will add For My Man, about women arrested for crimes of passion.
But if TVOne is an outlier in true-crime circles, Investigation Discovery (ID) feels like the epicenter. The network runs crime-case programming "24 hours a day, seven days a week," says general manager Kevin Bennett. He hopes The Jinx and Serial will serve as gateway drugs for people who never followed true crime before, drawing fresh eyeballs beyond ID's core of 930,000 average nightly viewers–about two-thirds of them women. "All of a sudden it's trendy to be in this area," Bennett says. "What people really enjoy is to be part of the investigation. They can put together the motivations and the suspects."
And a lot more suspects are coming up. ID's The Mind of a Murderer, in which criminal psychologist Dr. Michelle Ward sits down for conversations with killers, just launched a podcast version on iTunes. This fall, Wendy Williams will host Death by Gossip, recounting cases where loose lips led to tragic circumstances. Front Page, debuting later this year, will look for "instamentary" opportunities–that is, instant documentaries–to report quickly on cases making headlines. And Joel Schumacher, a fan of ID who has directed such big-screen thrillers as 8mm and Phone Booth, will executive produce Do Not Disturb: Hotel Horrors, recounting murder cases with an emphasis on spooky reenactments. "It's been a high priority of ours over the last few years to raise the cinematic value of our content," Bennett says, "with top-notch acting and sets and design."
True-crime shows are so appealing to viewers because "they touch on the most fundamental questions of human existence," says Dr. Mark Warr, a criminologist and professor of sociology at the University of Texas at Austin. "Is there justice in the universe? Why do people do bad things? Can one protect oneself or loved ones?"
And despite the grisly subject matter, true-crime shows are gripping; in some instances, the dramatizations up the entertainment quotient. The technique was popularized in Errol Morris's 1988 wrongful-conviction feature documentary, The Thin Blue Line, and it's been generating controversy ever since. Some critics have been troubled by its use in The Jinx, feeling it leads to viewer confusion. The media also embraced the show as entertainment, as many stories referred to Durst as the "star" of the docuseries; when cops nailed him, one typical headline blared "HBO Series Star Arrested!"
One place viewers won't find reenactments is on Cold Justice. Siegler is fine with showing law-enforcement folks walking through re-creations of the actual crime scenes but draws the line at hiring actors to play suspects and victims and showing them lying in pools of fake blood. "That is ridiculous," she says. "It's fake, it's canned, it's corny."
Objection sustained. But with true-crime shows experiencing a boom, and reenactment-heavy programs scoring such big ratings, you can bet that many producers will go right on ladling out the Karo syrup.