A.D.: The Bible Continues Aims for an Epic Tale (VIDEO)
MZlcapou
NBC's religious drama A.D.: The Bible Continues might not stick precisely to the historical or biblical script, but its stars hope that artistic license will help audiences connect.
"All these characters are shown in a very personal, very sort of three-dimensional way, which is very exciting for audiences today. And also it's very epic, reminds a little bit of Gladiator or Game of Thrones, it's that scale," says Juan Pablo di Pace, who plays Jesus.
We sat down with di Pablo and costars Vincent Regan (Pontius Pilate) and Richard Coyle (Caiaphas) to find out more about the show's interpretation of post-crucifixtion events, the hazards of filming in Morocco, and the connection the cast feels with the project.
"I think with [executive producers] Mark [Burnett] and Roma [Downey], the love they have for this project, it became infectious," says Regan (whom you may also recognize as King Simon from E!'s The Royals.)
A.D.: The Bible Continues, Sundays, 9/8c, NBC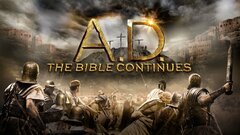 Powered by