Freaks and Geeks Cast to Reunite at TV Land Awards Freaks and Geeks cast to reunite at TV Land Awards
The "15th Anniversary Award" will be presented to creator Paul Feig and Judd Apatow, whose beloved show was canceled 15 years ago last month. Also attending will be Seth Rogen, Samm Levine, Martin Starr, Linda Cardellini, Busy Philipps, David Gruber Allen and Steve Bannos.
John Oliver's Edward Snowden interview inspires the website CanTheySeeMyD*ck.com
The new website expands on Oliver's Snowden interview with answers to questions about government surveillance.
NYC orders AMC to remove "Mad Men Ave" and "Don Draper Way" street signs
Turns out AMC never got permission from the city's Department of Transportation when it placed the realistic-looking signs last month in front of the Time-Life Building. PLUS: Here are 15 events from 1970 that could show up on Mad Men, and what if Don Draper had to sell internet ads?
Blame TV's remake craze on the glut of scripted shows
It's hard to stand out nowadays when there are 352 scripted shows. So the best way to get headlines is to announce you're rebooting a beloved show. As Josef Adalian points out, "even a rumor that a network is considering a reboot or remake of a beloved title can set off a social media (and traditional media) tsunami."
Veep may lose its makeup artist to Hillary Clinton
Makeup artist Barbara Lacy, who worked for Clinton for more than a decade, doesn't actually work on Julia Louis-Dreyfus. She's been the makeup artist for the rest of the cast since 2012. And now she's expected to join the Clinton presidential campaign. PLUS: Louis-Dreyfus says Bill Clinton loves the no term limits on Veep.
Louis CK: I'm glad SNL rejected me as a cast member — it's cooler to be the host
"You, know," he tells The Hollywood Reporter, "I'm so glad I didn't get cast on SNL. I'm way better off because I host it now. That's a million times cooler and more fun because to be a castmember there or a featured player or writer is a perilous, difficult, grueling office job — like the worst kind of office job, a 12-hour-a-day job with no end in sight. As a host, you have dinner with the cast and you hang out with Lorne. You get the best of that guy, and he's a great New York institution."
White House Correspondents Dinner is getting a Nerd Prom documentary
Nerd Prom: Inside Washington's Wildest Week offers an unsparing look at the annual event that has expanded beyond C-SPAN.
As a teenager, Jon Hamm was arrested in a University of Texas frat hazing incident
Star magazine found that charges were later dismissed the future Mad Men star.
Wale's Seinfeld-inspired album debuts at No. 1
The Album About Nothing, featuring Jerry Seinfeld, has opened at No. 1 on the Billboard charts with 88,000 copies sold.
Mamie Gummer to spy on Manhattan
"The Good Wife" alum will play a liaison to Soviet informer Jim Meeks.
Black-ish has earned its provocative title
"This is what Black-ish does often, and usually well," says Aisha Harris, "It unabashedly twists, expands, flips, and contorts our ideas about race, class, and gender. It offers a non-PC but honest look at what it can feel like to be black in America today."
Check out Zachary Levi as Hulu's Abraham Lincoln
He's guesting as the 16th president in the supernatural comedy Deadbeat.
Nina Dobrev is leaving Vampire Diaries to do movies — not because of Ian Somerhalder
E! shoots down speculation that Dobrev is exiting because of her ex-boyfriend. In fact, she's been hinting about leaving for quite a while.
Jane the Virgin's "Latin Lover Narrator" works from home and Skypes in with the cast
We'll likely never see the face of Anthony Mendez, who's based in New Jersey and works from a studio in his home with the California-based cast and crew. "I like the fact that it's been critically acclaimed but yet nobody has seen me, and I don't think we will," he says.
Penn Jillette dropped 105 pounds
The magician and Wizard Wars judge decided to lose weight after his doctor told him that he had high blood pressure.
Stephen Colbert's note to James Corden: "I'm here waiting in the wings. Love, Stephen"
Corden and his staff revealed the gifts all the late-night hosts gave them, including what Corden describes as "the single most impressive thing of orchids I've ever seen" from future lead-in Colbert.
Netflix spoofs the Apple Watch with the "Netflix Watch"
The Netflix Watch lets you watch your favorite shows on your wrist.
A Different World: An appreciation
There wasn't much attention in March when Netflix added The Cosby Show spinoff on black college life. Does the show still seem fresh 28 years later?
Watch the unaired Reno 911! pilot
Thomas Lennon recently revealed the original pilot never aired.
Game of Thrones' Maisie Williams: I'm tired of adults looking down on us teens
"People think we're f*cking stupid and we don't know anything about anything. It's really degrading," says the actress, who turns 18 next week. "I get a lot of adults who are like, 'You don't know sh*t,' and it's like, 'You don't know sh*t. You have no idea what it's like to be 17 years old."
The Americans' Alison Wright hopes Martha isn't killed off
"Well, there's only a few episodes left this season," she says, "but I would like to see her be happy, I would like to see her not be broken. I would like to see her not be murdered, be happy, and maybe if she can't get a kid, maybe get a little puppy or something?"
Freddie Prinze Jr. is releasing a cookbook
The Star Wars Rebels star is coming out with Back to the Kitchen next year, according to wife Sarah Michelle Gellar, who vouches for his cooking.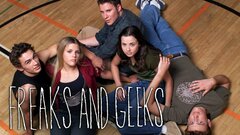 Powered by