Jeff Gordon Takes The Last Lap
Jeff Gordon's idea of a good time at the racetrack means winning. By that measure, few NASCAR drivers in history have enjoyed themselves this much. "I have a very hard time having fun behind the wheel of a car unless I'm being competitive," he says. "When I get to a racetrack, it's all about the stopwatch."
These days, Gordon is also operating under a different kind of stopwatch. Though he remains among the sport's best, and very nearly won his fifth Sprint Cup championship last season, his announcement in January that this would be his last season has made 2015 a bittersweet campaign for his fans, his peers and the media who cover the sport.
Next season, he joins the Fox Sports crew as an analyst, working alongside former champ Darrell Waltrip and Mike Joy in the booth. But first, there's a final season to complete, including his last Sprint Cup race at Daytona on July 5. And as Gordon continues to count down the remaining races in his Cup career, everybody else keeps adding up his vast array of accomplishments.
His are Hall of Fame stats: Gordon is third on NASCAR's all-time list with 92 victories, he's earned close to $150 million in racing (plus many millions more in endorsements) and, if all goes well, he'll break Ricky Rudd's record of 788 consecutive Cup starts this September in New Hampshire. But it's the intangible factors that make Gordon the sport's most important icon since Dale Earnhardt.
Gordon truly evolved the sport. Before his arrival, NASCAR fans and its pool of drivers were centralized in the Southeast. When the California-born, Indiana-raised Gordon first got behind the wheel of the No. 24 "Rainbow Warrior" Chevy late in 1992 and soon began winning, his fresh-faced appeal brought in fans from other regions of the country. His path through what was considered non–
stock car ranks helped NASCAR owners consider recruiting racers from up north and out west. Gordon also quickly became the symbol of slick NASCAR popularity just as the sport was signing more lucrative TV contracts. Thanks to Gordon, the national perception of stock car racing moved from Southern dirt roads to Madison Avenue.
"We needed a face for the sport that could present what we were about coast-to-coast, and Jeff was that guy," says six-time champ Jimmie Johnson, who was mentored by Gordon as a teammate at Hendrick Motorsports. "And equal to that, and not as recognized, is what he did for non–stock car drivers. Someone took a chance on Jeff. And then here comes Tony Stewart, here comes Jimmie Johnson, here comes Kasey Kahne, Kyle Larson. With Jeff, a whole new driver-recruitment process started."
None of it would have happened without Gordon's massive success on the track, punctuated by Cup titles in 1995, '97, '98 and 2001, and near misses in 1996, 2007 and last year. Meanwhile, Gordon, the pop-culture figure, was making frequent appearances wearing something other than a fire suit: occasionally cohosting Live! With Regis and Kelly and its successor, Kelly and Michael; as NASCAR's only Saturday Night Live host (memorably playing the mulleted, karate-kicking cameraman Ricky Funck); and on the cover of Fortune magazine.
"Jeff set the high level of expectation for drivers," says Steve Letarte, Gordon's crew chief for more than five seasons and now an analyst for NBC Sports, which returns to NASCAR in July (see sidebar). "It used to be, 20 years ago, you only had to drive a race car. Now, you need to be a great role model, a great teammate and a great spokesman for your sponsors."
The pace and grind have taken a toll on the 43-year-old Gordon, who began racing go-cart-like "quarter midgets" at age 5. He has had significant back issues, which he admits sped up the timetable for retirement. "I have to be very conscious and careful of rolling out of bed the wrong way or getting up too quickly, and if I don't do a stretch of some sort to that lower back area to relieve a little pressure on the disc, then I can find myself in an extreme amount of pain for the whole day," he says.
He had been planning to retire for a couple of years, which is one reason he famously lunged at Brad Keselowski last November on pit road at Texas Motor Speedway. When an ugly on-track scrape between the two drivers late in the race went a long way toward guaranteeing Gordon wouldn't win the 2014 series title, his frustration peaked. "I knew the opportunities were getting less and less," Gordon says of his outburst.
But other opportunities are looming—an as-yet-unnamed position at Hendrick Motorsports, his Fox gig and spending more time with his wife, Ingrid, and their two young children, Ella, 8, and Leo, 4. Both have the racing gene, according to their dad, and he bought each quarter midget cars. ("Ella's open to it, but I think my son might want to do it a little more," he says.)
Still, his teammates and competitors aren't convinced that the driver who has always been the master of the late-race moves is making the right one now. "I wondered if he's sure whether he's made the right call, timing-wise," says fellow Hendrick Motorsports driver Dale Earnhardt Jr., citing Gordon's competitive nature. "I know he wants to shut it down, but it's a question of whether he had another year or two in him, as far as scratching the itch."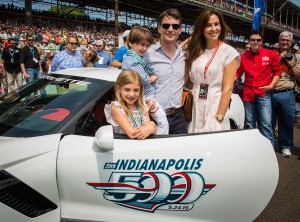 Gordon says he is sure of his decision and sees the final checkered flag at Homestead-Miami Speedway in Florida this November as a true finish. (Young gun Chase Elliott—son of NASCAR Hall of Famer Bill Elliott—will take over the No. 24 car next year.) "I don't want to be a hypocrite. I don't want to feel I'm sending the wrong message [by just saying I'm retiring]. As I get further into the season, Homestead seems more and more defined to me—that's going to be it," he says. "That's why I'm trying to keep myself very busy next year. If I'm busy, that will keep me from missing it. Besides," says the man who has spent most of his life chasing glory in a race car, "I'm not the type of person that just sits on the couch and does nothing."
NASCAR Sprint Cup in Daytona, Sunday, July 5, 7:45/6:45c, NBC
A New Crew View
Drivers and crew chiefs—in NASCAR, no working relationship is more vital for success, even though they frequently disagree on the best winning strategy. NBC Sports, which is returning to NASCAR coverage for the first time in nine years, is banking on that spirit in the booth as well, pairing recently retired driver Jeff Burton with Steve Letarte, who last season nearly led Dale Earnhardt Jr. to the Sprint Cup title. The duo will serve as analysts starting at Daytona on July 5 and running through the Chase for the Sprint Cup playoff races this fall. "Jeff and I have very different opinions and we're not afraid to disagree," Letarte says. "And I think the fans should see that. I can assure you there'll be a lot of times when our approaches don't line up. It'll be interesting to see which one of us is more successful. But I think we'll have that good, fun banter."